Pirates in Indian Ocean seize Italian oil tanker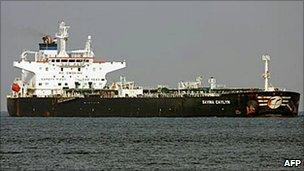 Pirates have boarded and taken control of an Italian oil tanker in the Indian Ocean, the Italian navy has said.
The pirates fired shots at the Savina Caylyn during the attack, some 800km (500 miles) off the coast of India and 1,300km (800 miles) from Somalia.
A navy spokesperson said that no-one had been hurt among the crew of 17 Indians and five Italians.
EU naval forces said the attack on the tanker took place east off the Yemeni island of Socotra.
The EU said the tanker was taken by a single skiff with five pirates on board. An Italian coastguard officer said the ship took evasive action but came under sustained fire from the pirates before they boarded the vessel.
The 105,000-tonne ship was carrying a load of crude oil from Marsa Bashayer in Sudan and was destined for Pasir Gudang port in Malaysia.
An Italian navy frigate was heading to the scene but remains some 960km (600 miles) away and is expected to take several days to arrive, Italian media reports say.
A spokesman for the EU naval force said the tanker was currently sailing west, towards the Somali coast.
The vessel can carry just over 700,000 barrels of oil with a maximum cargo estimated to be worth about $63m (£39m), Reuters news agency said.
Somali pirates have made millions of dollars in recent years by capturing cargo vessels in the shipping lanes around the Horn of Africa and holding the ships and crew for ransom.
Somalia has had no functioning central government since 1991, allowing piracy to flourish off its coast.