Zimbabwe arrests after foreigners attacked in Harare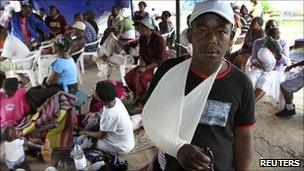 Police in Zimbabwe have arrested eight people for looting after violent attacks by gangs of youths on foreign traders in the capital, Harare.
The unrest began during a demonstration by President Robert Mugabe's Zanu-PF party against a South African firm taking over a car parking contract.
A Zanu-PF spokesman said the march was sabotaged by political rivals.
The attack on foreigners comes amid an upsurge in political violence ahead of possible elections later this year.
Tensions are again rising between Zanu-PF and the Movement for Democratic Change (MDC), who have been sharing power for the last two years after disputed and violent polls in 2008.
Nigerians and Chinese were among those who lost property, including mobile phones, electrical goods and clothing, in the unrest.
Correspondents say hundreds of protesters were carrying banners some with anti-foreigner slogans.
Other posters condemned the continued use of sanctions against Mr Mugabe, which the European Union is expected to review next week.
"We have arrested some known criminals and we are still investigating the group that infiltrated the march," police spokesman James Sabawu told Reuters news agency.
The mayor of Harare Muchadeyi Masunda, who is not aligned to Zimbabwe's two main political parties, said Monday's violence also reflected economic frustrations among Zimbabwe's youth who have not benefited from the dollarisation of the local currency.
According to the MDC, police also arrested on Monday hundreds of its members who sought refuge at a church after weekend violence in Harare's Mbare suburb.
It said Zanu-PF youths had run riot in the area on Saturday and destroyed and looted homes.
It also reported that a house belonging to an MDC official in Bindura, about 90km (55 miles) north-east of Harare, was burnt down by alleged Zanu-PF supporters on Monday.
In a rare joint statement by the rival parties on Saturday, provincial leaders in Harare called for an end to political violence.
BBC southern Africa correspondent Karen Allen reports that diplomatic sources say the demonstrations had "all the hallmarks of systematic pre-election intimidation" and appear to have been designed to "soften the opposition".
Related Internet Links
The BBC is not responsible for the content of external sites.