Southern Sudan minister Jimmy Lemi Milla shot dead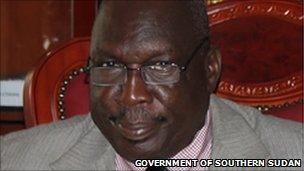 A minister in the government of Southern Sudan has been shot dead inside his ministry building in Juba.
Co-operatives and Rural Development Minister Jimmy Lemi Milla was killed by a former employee, said Philip Aguer of the Sudan People's Liberation Army.
The assailant also killed a bodyguard and was then arrested.
The incident comes only days after referendum results confirmed that Southern Sudan would become the world's newest independent state on 9 July.
Nearly 99% of southerners voted for secession in last month's poll. Sudanese President Omar al-Bashir has said he will accept the outcome.
Officials in the ruling Sudan People's Liberation Movement (SPLM) believe the motive for Wednesday's shooting was personal rather than political.
But the BBC's Peter Martell in Juba says it is a clear sign of the security challenges ahead for Southern Sudan as it moves toward its full independence.
Col Aguer said the attacker was a former employee of the minister and believed to be related to him by marriage.
Our reporter says Mr Milla arrived as usual at his office in the centre of town in the government ministry complex.
But his bodyguard left his pistol in his car and the disgruntled former employee smashed the window, grabbed the weapon and went inside to shoot the minister.
It was first reported that the killer shot himself, but it has later emerged that he was arrested by police.
Our correspondent says there is shock in Juba that the shooting could have happened right in the centre of the city and at the hub of government.
The killing has also dampened the excitement in Juba following the announcement of the referendum results this week, he adds.
Milla was a former supporter of the northern ruling party, but switched allegiance to the SPLM after 2005, when the Comprehensive Peace Agreement (CPA) was signed to end two decades of civil war.
Although the referendum was peaceful, tension remains high in parts of the oil-rich area which straddles the north and south. Fifty people were killed over the weekend in fighting in Southern Sudan's Upper Nile state.
Related Internet Links
The BBC is not responsible for the content of external sites.