Nigeria Nasarawa clashes after President Jonathan visit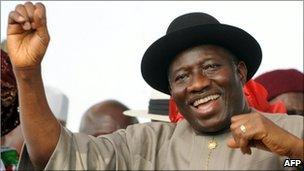 There have been clashes between police and opposition protesters in Lafia in north-central Nasarawa state.
Witnesses say police fired tear gas and shot in the air to disperse the crowds who were burning tyres in the streets.
The unrest follows the stoning of President Goodluck Jonathan's convoy in Lafia earlier this week while he was campaigning for April's election.
This prompted the arrest of an opposition candidate for Nasarawa governor, which angered some residents.
A police spokesperson in the capital, Abuja, told the BBC that the gubernatorial candidate, Umaru Tanko Al-Makura, of the Congress for Progressive Change party, was still in custody.
A decision has yet to be made about whether to charge him.
Muhammad Aminu, a Lafia resident, told the BBC's Hausa Service that the police fired tear gas and shot in the air to disperse the angry protesters.
A civil servant in the city, Nata-Allah Muhammad Imam, said he had been unable to get to work because of the trouble and that banks and shops were closed.
Mr Jonathan, who is the presidential candidate for the ruling People's Democratic Party in April's elections, is on a campaign tour of several northern states.
His candidacy is controversial in the north, because he is a southerner.
The PDP has a tradition of alternating presidential power between the north and south of the country after two terms of office.
But this was interrupted when Mr Jonathan succeeded President Umaru Yar'Adua, a northerner, after his death last May - before his first term had ended.
Then in January's party primary, Mr Jonathan overwhelmingly defeated a northerner, ex-Vice-President Atiku Abubakar.
The PDP candidate has won every poll since the end of military rule in 1999.
However, most of its victories have been marred by widespread fraud and violence.
Related Internet Links
The BBC is not responsible for the content of external sites.