South Sudan independence: Bashir seeks Darfur 'reward'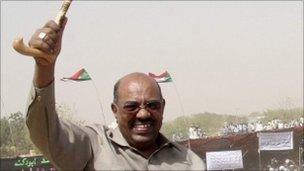 Sudan has hinted that the arrest warrant for President Omar al-Bashir should be withdrawn as a "reward" for him accepting the south's independence.
Mr Bashir has promised to recognise Southern Sudan after 99% of voters backed secession.
The vote comes after decades of north-south conflict.
The International Criminal Court has issued a warrant for Mr Bashir's arrest in connection with a separate conflict in the western region of Darfur.
In a special meeting on Wednesday, the UN Security Council congratulated Sudan's government for its co-operation in the south's referendum on independence.
"Shouldn't this be rewarded by your distinguished and august council by a new vision, a new vision that would reconsider the position vis-a-vis the hero of peace, President Bashir?" asked Sudan's UN ambassador Daffa Alla el-Haj Ali Osman.
Mr Bashir is accused of links to war crimes committed against civilians in Darfur, after rebels took up arms in 2003.
BBC UN correspondent Barbara Plett says some African and Western states are reportedly considering granting Mr Bashir a year's reprieve from these charges - the idea would be to encourage Khartoum to settle contentious outstanding issues with the south, which is due to formally declare independence in July.
The African Union wants the warrant to be dropped, saying the priority should be to secure peace.
But our correspondent says there was no sign of any such move at the council.
Its statement criticised recent government bombardments in Darfur, and mentioned the importance of justice for crimes committed there.
The US has suggested it would take Sudan off their list of states which sponsor terrorism, if it ensured a peaceful referendum.
However it has linked promises to lift sanctions and normalise relations to a negotiated solution of the conflict in Darfur.
Related Internet Links
The BBC is not responsible for the content of external sites.