Soldiers on trial charged with DR Congo mass rapes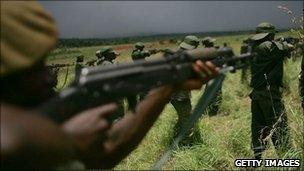 An army officer in the Democratic Republic of Congo and 10 other soldiers have gone on trial at a military court over an alleged mass rape of civilians.
Prosecutors say Lt Col Kibibi Mutware and the other soldiers, including three officers, raped at least 35 women.
The alleged rapes took place on 1 January in the town of Fizi, in the eastern province of South Kivu.
Col Kibibi has denied the charges. There have been numerous cases of mass rape in the unstable east of DR Congo.
Last year, UN special representative on sexual violence in conflict Margot Wallstrom called DR Congo the "rape capital of the world".
Both government soldiers and rebels forces have been accused.
The 11 have each been charged with three crimes against humanity (rape, false imprisonment and inhuman treatment of civilians) and one of terrorism, a source with a local human rights group monitoring the trial told the BBC.
Military and humanitarian sources say the events on New Year's Day began when a mob lynched a soldier who had shot a civilian - allegedly in a fight over a woman.
A group of soldiers then allegedly took revenge on the people of Fizi, injuring at least 26 besides the rape victims.
Col Kibibi has dismissed the allegations and said the soldiers who had committed crimes had disobeyed his orders.
The attacks prompted UN officials to urge a speedy investigation and transparent legal process to bring the perpetrators to justice.
The trial is being held at a special mobile court in the town of Baraka, near Fizi, designed to bring justice to remote parts of the country.
The trial is expected to last 10 days and is being held with the assistance of the UN mission in DR Congo, the American Bar Association and Avocats Sans Frontieres (Lawyers Without Borders).
Eastern DR Congo has been unstable since armed groups fled across the border after the 1994 genocide in neighbouring Rwanda.