South Africa's Jacob Zuma creates $1.2bn fund for jobs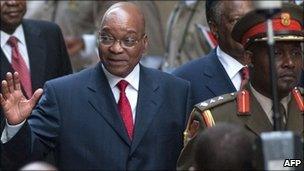 South African President Jacob Zuma has announced the establishment of a fund worth $1.2bn (£770m) to create jobs.
More than one in five South Africans are unemployed and more than half of those under 24 are jobless.
In his annual state-of-the-nation address, Mr Zuma said he was concerned that unemployment and poverty persisted despite 10 years of economic growth.
He rose to power within the African National Congress and became president in 2009 on a pledge to fight poverty.
Mr Zuma told parliament in Cape Town that the fund would finance job-creation initiatives over the next three years - and he urged the private sector to get involved too.
During his address, he also said progress had been made in rolling out houses, electricity and water.
"More than 400,000 additional people were served with basic water supply last year. About 81% of the country is electrified as compared to 63% in the year 2000," he said.
But he admitted that things could be better, as people had pointed out after his call last week for comments and suggestions for his speech via Twitter and Facebook.
"Bongokuhle Miya wrote on the Presidency Facebook page that his hometown Umzimkhulu is in an appalling condition, with burst sewerage pipes everywhere, no drainage system and domestic animals that are roaming around town," Mr Zuma said.
"Indeed, we agree service delivery should move faster."
The leader of the opposition Democratic Alliance, Helen Zille, was sceptical about the job fund initiative.
She said the fund would need to be effectively administered and monitored.
Mr Zuma "was unclear on what it will be used for and how", she said.
Some analysts commenting outside parliament said the president's speech was "thin on detail", while others said "it was safe and vague".
Related Internet Links
The BBC is not responsible for the content of external sites.