Uganda election: Amnesty International violence concern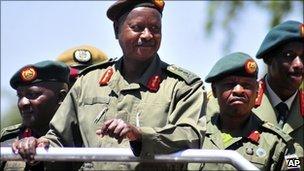 There is evidence of election-related violence ahead of Uganda's polls, Amnesty International says.
The UK-based human rights group's report outlines abuses documented in nine towns across all regions.
The author of the report, Godfrey Odongo, told the BBC all main parties had been involved and the police had not done enough to investigate.
President Yoweri Museveni, in power for 25 years, will face veteran opposition leader Kizza Besigye on 18 February.
Six other presidential candidates are also in the running and Ugandans will also be voting for MPs.
The European Union observer mission in the country has said that compared to previous elections, the campaigns this year have been mostly peaceful.
But Mr Odongo said there were areas of concern.
"There were a lot of instances when political opponents either within the ruling party vying for the party ticket or involving supporters of the ruling party and opposition coming into violent clashes often leading to serious injuries," he told the BBC's Network Africa programme.
"Quite a bit of violence has involved the police, so it's across the board. The police is not taking its investigative role seriously," he said.
There were also instances of journalists being beaten up, which was a threat to freedom of expression, he said.
Mr Odongo added that an issue of great concern was that opposition parties say they do not trust the police.
"They say they are going to form civilian brigades, we don't know the extent to which they will be armed, to protect and guard votes."
The electoral commission has also said such militias are being formed and warned of possible unrest.
Correspondents say the police appear to be preparing for further violence and have heavily recruited paramilitary groups to help.
They have also imported riot gear including water canon trucks and tear gas.
It will be the third time that Dr Besigye has taken on Mr Museveni in the presidential race.
Dr Besigye used to be Mr Museveni's personal doctor and the two men were allies in the guerrilla war which brought Mr Museveni to power in 1986, before they fell out.
After losing the 2002 poll, Dr Besigye fled Uganda, saying he feared for his life. He returned before the 2006 election, but was not able to campaign properly as he was charged with rape and supporting an armed group.
Dr Besigye said all the allegations were part of a campaign of political persecution.
He was cleared of rape in March 2006 - and last year the Constitutional Court quashed the treason charges.
Mr Museveni is still favourite to win - he has defeated his challengers every five years since 1996, though his support has steadily declined.
In 1996, he received around 75% of the vote, but this fell to 59% in 2006.
Related Internet Links
The BBC is not responsible for the content of external sites.