Charles Taylor: A waiting game as trial extended
By Peter Biles
BBC News, The Hague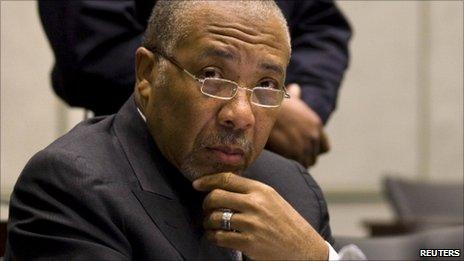 This might have been the last day of the marathon war crimes trial of Liberia's former leader Charles Taylor, but no-one present was surprised by the latest adjournment.
Mr Taylor was not in court on Friday to hear the legal argument over whether the trial should be extended.
He maintained his boycott that began on Tuesday when both he and his defence lawyer, Courtenay Griffiths, absented themselves from the court after a row with the judges.
Mr Taylor remains in his detention centre in the nearby seaside resort of Scheveningen where he has been held since his transfer to The Hague in 2006.
The unresolved issues are threefold:
Firstly, a defence appeal against the court's rejection of a late written trial brief
Secondly, there is uncertainty over whether the defence team will still be allowed to present closing oral arguments
And finally, the matter of Mr Griffiths facing an official demand to apologise for his walk-out from the court.
Despite the further delays, Mr Griffiths insists the bottom line is that the Special Court for Sierra Leone is running short of money.
He is concerned that the legal proceedings are being rushed as a result.
Earlier this week, the judges sounded a warning that Mr Taylor's trial had already suffered enough delays.
They decided to give the prosecution the green light to present its closing arguments even though Mr Taylor and Mr Griffiths had left the court.
However, Mr Griffiths says he is still hopeful that the trial can be brought to a speedy conclusion.
He hopes to file the appeal relating to the 500-page written summary of the defence case within the next few days.
One of the reasons why Mr Griffiths missed the 14 January deadline for the submission of the final trial brief was that new evidence came to light.
The defence may be arguing that this has become a political trial, but the thrust of the prosecution's summing-up this week was that Mr Taylor was the central figure, "the critical actor" and "the godfather", during his support for the Revolutionary United Front (RUF) rebels in Sierra Leone during the "campaign of terror" there in the 1990s.
"The ultimate objectives in Sierra Leone were to gain control over the territory and the population... and to pillage the resources, in particular the diamonds," chief prosecutor Brenda Hollis told the court on Tuesday.
The Open Society Initiative, a non-governmental organisation that has been monitoring this case, says the trial of Mr Taylor boils down to one question: Was the former Liberian president behind the mayhem and crimes committed in Sierra Leone?
We shall have to wait a while longer for an answer. The court's verdict is still several months away.
Related Internet Links
The BBC is not responsible for the content of external sites.