Winnie Mandela taken to court by South Africa policeman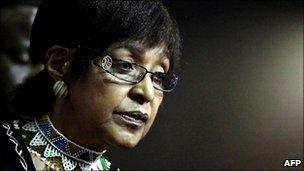 A South African police officer has laid charges against Nelson Mandela's ex-wife, after the pair clashed when he accused her of speeding, his union says.
The Solidarity union accused Winnie Madikizela-Mandela of trying to intimidate officer Jannie Odendaal.
She is accused of defeating the ends of justice, assault and reckless and negligent driving.
Mr Odendaal and a colleague have since been transferred from their posts.
Her driver and bodyguard have filed complaints of intimidation and pointing their firearms against the pair.
An investigation has begun into their conduct.
Solidarity said that Mr Odendaal had only been doing his job.
"Madikizela-Mandela and her bodyguards are the ones whose behaviour on that day should rather be investigated," Dirk Hermann, the union's deputy general secretary, said in a statement.
"We will not allow that the political elite intimidate members of the police who are merely performing their duties properly," he said.
Ms Madikizela-Mandela has not commented on the incident.
Mr Odendaal, who stopped her car in December, said she had been driving at 150km/h (about 90mph) - 30km/h above the speed limit.
Related Internet Links
The BBC is not responsible for the content of external sites.