South African 'made foot-and-mouth threat to UK'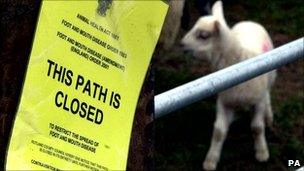 A South African man has been charged with threatening to unleash a biological agent in Britain unless he was paid $4m (£2.5m).
Brian Roach, 64, allegedly threatened to unleash foot-and-mouth disease in letters and e-mails to the Department of Environment, Food and Rural Affairs.
He was arrested just outside Johannesburg while allegedly trying to collect some of the cash.
He has appeared in court in South Africa, charged under terrorism laws.
A BBC correspondent in court said Mr Roach, a retired engineer, allegedly threatened to release a toxic biological agent which would cause an outbreak of foot-and-mouth disease.
The court heard that in a letter he claimed he had the expertise and resources to carry out his threat and it would "devastate the UK's farming industry".
The South African police have not confirmed whether or not they believed he had the capability to unleash such a weapon.
But they said that if deployed: "This biological agent would have caused the destruction of property and resulted in major economic loss."
South African police and UK counter-terrorism teams had been monitoring the suspect since July last year.
An outbreak of foot-and-mouth in the UK in 2001 led to the slaughter of millions of farm animals and cost British agriculture billions of pounds.
South Africa's National Prosecuting authority says Mr Roach was trying to draw attention to the plight of farmers across the border in Zimbabwe, where some 4,000 white farmers have been forced from their land by the government of President Robert Mugabe.
Mr Roach is to appear in court again on Friday.