South Africa athletics boss Chuene 'evaded taxes'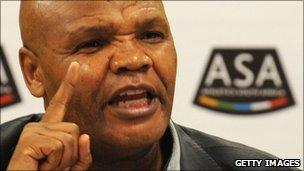 Former Athletics South Africa head Leonard Chuene has been found guilty of misappropriating funds and tax evasion by the local Olympic committee.
Mr Chuene and two other officials have previously denied the charges.
The entire board of Athletics South Africa was suspended a year ago and an investigation launched following the handling of the gender case of 800m world champion Caster Semenya.
Mr Chuene has admitted lying about tests conducted on Semenya.
Mr Chuene and his co-accused - Kakata Maponyane and Simon Dlamini - have until Thursday to appeal against the committee's decision.
The alleged financial irregularities were uncovered after the South African Sports Confederation and Olympic Committee (Sascoc) took charge of ASA following the Semenya incident.
Related Internet Links
The BBC is not responsible for the content of external sites.