Kenyan sailors welcomed after Somali pirate release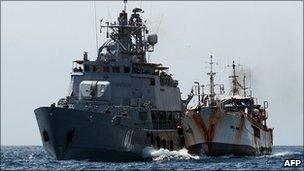 A South Korean fishing trawler hijacked in October has arrived in the Kenyan port of Mombasa after its release last week by Somali pirates.
Family and friends of the 39 Kenyan, two South Korean and two Chinese sailors aboard welcomed them.
The FV Golden Wave - also known as Keummi 305 - was escorted into the port by a Finnish warship.
After disembarking, trawler captain Kim Dae-keunm told the BBC that no ransom was paid for their release.
Somalia has had no functioning central government since 1991, allowing piracy to flourish off its coast.
The BBC's Jamhuri Mwavyombo in Mombasa says there were emotional scenes as the sailors met their families and the other officials gathered for their arrival.
Some of the crew members told our reporter that their trawler was used by the pirates as a mother ship to attack other vessels.
Last week, the International Association of Independent Tanker Owners (Intertanko) said Somali pirates were now using at least 20 seized vessels as mother ships to launch attacks in the region.
Somali pirates have made millions of dollars in recent years by capturing cargo vessels in the shipping lanes around the Horn of Africa and holding the ships and crew for ransom.
Many of the pirates say they began as fishermen but have lost their livelihoods because of foreign trawlers.
A recent US study found that maritime piracy costs the global economy between $7bn (£4.4bn) and $12bn (£7.6bn) a year.
European Union naval forces have been escorting merchant ships in the Gulf of Aden since 2008.
Related Internet Links
The BBC is not responsible for the content of external sites.