DR Congo: 'FDLR rebels kidnap' Soco oil worker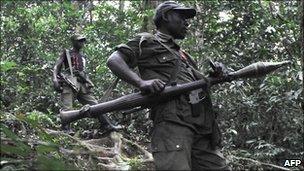 Rebels in the Democratic Republic of Congo have kidnapped a man who works for UK-based oil firm Soco, along with a government soldier, the army says.
An army spokesperson said FDLR fighters attacked their vehicle in Katiguru in North Kivu province on Monday evening.
The UN said one of its patrols found a British national and his driver after the attack on Tuesday morning.
Rival militias have been battling each other for years in the east for control of the region's mineral resources.
According to the UN peacekeeping mission in the provincial capital Goma, the foreigner being held is a South African, working for a security contractor of Soco.
The South African embassy in DR Congo's capital, Kinshasa, said that it was trying to confirm the man's nationality.
In a statement, Soco said Monday's attack took place outside Virungu National Park and its contractor was being held unharmed.
The BBC's Thomas Hubert in Kinshasa says Soco and its associate Dominion Petroleum obtained an oil exploration permit in North Kivu last June.
But the project has come in for criticism from Unesco as part of the drilling will be in the territory of the Virunga Park, home to some of the world's last remaining mountain gorillas.
In July, an Indian pilot in North Kivu was held for several weeks after an attack by armed men, thought to be FDLR rebels.
Rwandan Hutu FDLR fighters are accused of being behind much of the unrest in eastern DR Congo in the last 15 hears.
Some FDLR leaders allegedly took part in the 1994 slaughter of some 800,000 ethnic Tutsis and moderate Hutus in Rwanda.
Related Internet Links
The BBC is not responsible for the content of external sites.