South Sudan chosen as name for new country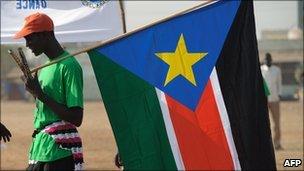 South Sudan has been chosen as the name of what will be the world's newest country when it comes into existence on 9 July, ending months of speculation.
Other suggested names had included Nile Republic and Cush, a reference to a Biblical-era kingdom in the area.
Some 99% of southern Sudanese voted for independence from the north of Sudan in a referendum held in January.
The name decision was announced after a meeting of the top committee of the south's ruling SPLM party.
The SPLM's Secretary General Pagan Amum said the decision, made by the party's politburo, will require approval by parliament.
But correspondents say that is a formality as the SPLM holds the vast majority of seats in the assembly.
Mr Amum said negotiations were under way with the north about how to go forward with the partition and he warned of the challenges ahead.
"We are a baby nation that has just been born - and like a human baby, we are fragile but have the potential to become great," AFP news agency quotes him as saying.
He said the current pound currency would be replaced by a new currency, also to be called the pound.
The referendum on independence for the oil-rich south was part of a deal to end decades of north-south conflict.
The week-long vote itself passed off peacefully, but tension remains high in parts of the oil-rich area which straddles the north and south.
Last week, some 200 people were killed in south Sudan's Jonglei state in fighting involving fighters loyal to rebel leader George Athor.
Related Internet Links
The BBC is not responsible for the content of external sites.