SA tweeters prompt pothole action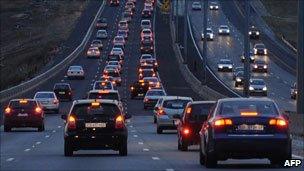 South Africa is to spend $3m (£1,9m) and create 70,000 jobs to fix potholes after complaints to the president made on social networking sites.
President Jacob Zuma had urged people to use Twitter and Facebook to suggest what his annual state-of-the-nation speech last week should focus on.
Plugging potholes and creating jobs were the most common suggestions.
Transport Minister Sbu Ndebele said a pothole hotline would be launched for road users to report problems.
Mr Ndebele, announcing the plans in parliament, said engineers would monitor roads and repair them before they became "large ditches".
The BBC's Pumza Fihlani in Johannesburg says rural roads have been the most neglected in South Africa.
But the repair plan will also be good news to residents of urban areas where roads have shown more wear and tear in recent years because of the hundreds of thousands of cars using them daily, she says.
Related Internet Links
The BBC is not responsible for the content of external sites.