Tunisia's Zine al-Abidine Ben Ali 'seriously ill'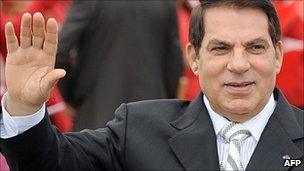 Former Tunisian President Zine al-Abidine Ben Ali is seriously ill in a Saudi hospital, reports say.
Mr Ben Ali, who was deposed in a popular uprising last month, has suffered a stroke, a family friend told AFP news agency.
The 74-year-old flew to Saudi Arabia with his family after weeks of mass protests over unemployment and poverty.
Tunisia now has an interim government which is preparing the country for national elections.
The family friend, who was not named, said the former president was "in a coma" in a hospital in Jeddah.
"He had a stroke, and his condition is serious," he said.
Tunisia's Le Quotidien newspaper also reported on Thursday that Mr Ben Ali had suffered a stroke.
Meanwhile, a Saudi source quoted by Reuters news agency said Mr Ben Ali was "in a grave condition".
Earlier, a spokesman for Tunisia's interim government refused to confirm nor deny reports that Mr Ben Ali was in hospital.
The Tunisian uprising ended Mr Ben Ali's 23-year hold on power.
Although he was credited with creating political stability and strong economic growth, critics say he disregarded human rights and democratic values - claims he denies.