South Africa athletics head Leonard Chuene sacked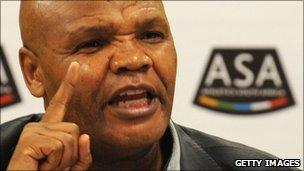 The head of South Africa's athletics body Leonard Chuene has been sacked after a disciplinary hearing found him guilty of financial misconduct.
The decision was taken by South Africa's Olympics governing committee.
Mr Chuene and the entire Athletics South Africa (ASA) board had been suspended since 2009 over their handling of the gender case of 800m world champion Caster Semenya.
Mr Chuene has admitted lying about tests conducted on Semenya.
The South African Sports Confederation and Olympic Committee (Sascoc) - whom Mr Chuene reported to - has also barred him from holding any senior position in sport for the next seven years.
The alleged financial irregularities were uncovered after Sascoc took charge of Athletics South Africa (ASA) following the Semenya case.
Mr Chuene faced 16 charges, including poor corporate governance, misappropriation of funds and tax evasion, and was found guilty of 14 on Monday.
Sascoc said these included "the Caster Semenya issue".
Mr Chuene has not commented on Sascoc's decision.
Related Internet Links
The BBC is not responsible for the content of external sites.