African leaders in Abidjan to mediate Ivorian crisis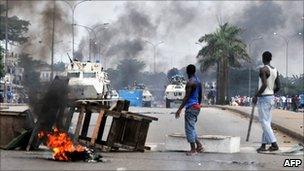 Four African presidents have arrived in the Ivory Coast capital of Abidjan to mediate the political deadlock, as tensions in the country escalate.
The African Union-backed panel met in Mauritania on Sunday to draw up a strategy, after previous attempts by other leaders have failed to resolve the crisis.
Meanwhile, one man was killed during fresh clashes on Monday in Abidjan.
The country has been in deadlock since disputed presidential polls last year.
Alassane Ouattara is widely recognised to be the winner of November's elections, but incumbent president Mr Gbagbo claims he won, and has refused to relinguish power despite international pressure.
A source involved in preparatory talks told Reuters news agency the panel would request Mr Gbagbo step down, in return for a number of guarantees.
Mr Gbagbo has turned down similar offers in the past.
Mr Ouattara's prime minister has said that he does not expect the panel to find a solution, and has called on the Ivorian people to lead an uprising, similar to the one which has recently occurred in Egypt.
The panel includes the presidents of Chad, Mauritania, South Africa and Tanzania.
Hundreds of members of the Young Patriots, alligned with Mr Gbagbo, held protests in front of the airport on Sunday night.
Burkina Faso's President Blaise Compaore, another member of the panel, cancelled his trip after the pro-Gbagbo militia threatened to attack his convoy, alleging he supported Mr Ouattara.
On Monday, a civilian was killed in the Treichville district of the capital amid clashes between forces loyal to Mr Gbagbo and Mr Ouattara, witnesses said.
The man was crossing the road when he was shot after security forces opened fire on supporters of Mr Ouattara, who had made barricades and burned tyres, residents told AFP news agency.
Several others were injured, some with bullet wounds, and admitted to a medical clinic in the district, AFP reports.
Over the weekend, Ivorian troops fired on protesters calling for Mr Gbago to step down in Abdijan, killing at least four people and injuring several others, witnesses said.
At least 300 people have been killed in violence since the polls, mostly supporters of Mr Ouattara killed by pro-Gbagbo forces, the United Nations says.
November's presidential vote was supposed to reunify the world's largest cocoa producer, which has been divided between north and south since a conflict in 2002.
Related Internet Links
The BBC is not responsible for the content of external sites.