Guinea bankrupted by junta - President Alpha Conde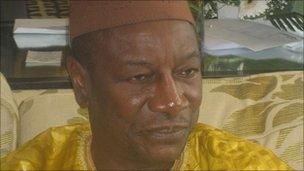 Guinea's President Alpha Conde has told the BBC the military junta that held power before he was elected has left the country bankrupt.
Mr Conde said the army leaders had spent more money in two years than in the 50 years from independence in 1958.
"It was like they were printing money as if there was no tomorrow," he said.
In December, Mr Conde, a veteran opposition leader, was declared the winner of Guinea's first democratic election in 52 years.
He took over from the military junta that had seized power in December 2008 on the death of the previous president, Lansana Conte, who had ruled for 24 years.
The junta, initially headed by Capt Moussa Dadis Camara, promised to end corruption.
"Under the military council, more money was spent than from 1958 until the death of Lansana Conte," President Conde told the BBC's French Service while on a visit to Senegal.
The Guinean leader said that his country's economy was in tatters.
"There is no agricultural production. The customs officers have not been paid. We have inherited a country but not a state," he said.
The BBC's Alhassan Sillah in the capital, Conakry, says the government has recently issued a list naming and shaming debtors who owe the state money.
The list, including multinational mining companies and politicians, was printed in newspapers and aired on television a few days ago, he says.
The finance department says about $128m (£79m) is owed to the state since Mr Conte died.
Guineans are among the poorest people in West Africa, despite the fact that the former French colony is the world's leading exporter of the aluminium ore bauxite.
Related Internet Links
The BBC is not responsible for the content of external sites.