Zimbabwe holds 46 for attending lecture on Egypt unrest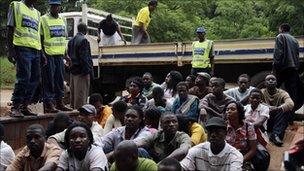 The Zimbabwe authorities have detained 46 people for attending a lecture on the unrest in North Africa and the Middle East.
The group has been charged with seeking to overthrow President Robert Mugabe by emulating the protests which toppled the leaders of Egypt and Tunisia.
Police raided their meeting in Harare on Saturday, seizing their equipment.
Correspondents say they could face further treason charges when they appear in court again on Thursday.
The activists, trade unionists and students were attending a meeting entitled "Revolt in Egypt and Tunisia: What lessons can be learnt by Zimbabwe and Africa?".
The talk was being presented by Munyaradzi Gwisai, a former lawmaker in the opposition Movement for Democratic Change (MDC) who runs the International Socialist Organisation pressure group and was among those detained.
Media reports said a video projector, laptop and two DVDs were seized.
Zimbabwean media said police had information that the group were attempting to organise illegal street protests against the government.
Defence lawyers say the lecture was an academic debate, but the group have been charged with attempting to overthrow Mr Mugabe, who has been in power since 1980.
"They appeared in court this afternoon and they are facing charges of treason or alternatively subverting a constitutionally-elected government," lawyer Alec Muchadehama told the AFP news agency.
He said the case would continue on Thursday, where would also raise complaints that his clients were beaten by the police.
The BBC's southern Africa correspondent Karen Allen says Zimbabwe has faced a virtual news blackout on the dramatic global events of the past few weeks.
But activists have been using social network sites to galvanise opposition groups to protests emulating those across the Middle East and northern Africa, she adds.
Mr Mugabe's critics accuse him of using violence to quell his political opponents, who are part of a power sharing deal which the president says has run its course.