Uganda election: Besigye calls for peaceful protests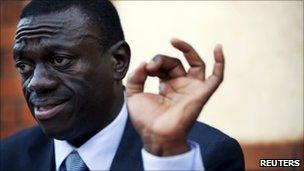 Uganda's main opposition leader Kizza Besigye has called for peaceful protests against the outcome of the recent general election.
Incumbent Yoweri Museveni won the presidential poll with 68% of the vote.
Dr Besigye said both the presidential and parliamentary votes were a sham, with ballot stuffing and intimidation.
His protest call came a day after the electoral commission postponed the mayoral election in the capital because of alleged vote rigging.
A senior member of the commission said he had found evidence of ballot-box stuffing when he visited several polling stations in Kampala.
"The time is now for the people of Uganda to rise and peacefully protest against the outcome of the 2011 elections," said Dr Besigye, who stood against Mr Museveni for a third time.
Before the election, Mr Museveni vowed to stop any street protests and warned that Egyptian-style demonstrations could not happen in Uganda.
"We can't allow them to demonstrate, there's already enough tension," police spokeswoman Judith Nabakoba told Reuters news agency.
African Union election observers have said the polls in Uganda suffered from severe shortcomings, and cannot be described as free and fair.
Other international observers have also criticised the election process, but said it was largely peaceful.
Dr Besigye and Mr Museveni were allies in the guerrilla war which brought the latter to power in 1986, but they later fell out.
Related Internet Links
The BBC is not responsible for the content of external sites.