Ivory Coast: army and ex-rebels 'breach ceasefire'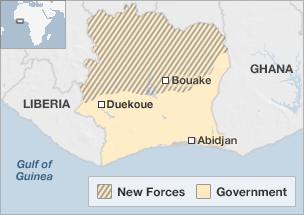 Fighting has erupted in western Ivory Coast, breaching the six-year ceasefire between ex-rebels and government troops, the United Nations says.
A UN spokesman told the BBC there were clashes in the village of Teapleu in the early hours of Thursday morning.
He said given the political stalemate, the reports were very "worrying".
Tensions have been rising since President Laurent Gbagbo's refusal to hand over to Alassane Ouattara, widely seen as the winner of November's poll.
An armed rebellion in 2002 split the world's largest cocoa producer between the north, held by New Forces rebels who are backing Mr Ouattara, and the government-controlled south.
November's presidential vote was supposed to reunify the West African nation.
Teapleu, near the border with Liberia, is along the buffer zone between the north and south.
"This is a very serious issue because it would be the first time the ceasefire is broken in six years," Hamadoun Toure, the spokesman for the UN mission in Ivory Coast, told the BBC's Newshour programme.
"It will also change the nature of the tension because so far we've been witnessing violence between civilians and the army - but now if we have two armies face to face it will be very very complicated."
He said details of the fighting were sketchy.
The ex-rebels said they were attacked at 0400 GMT and that fighting has stopped temporarily.
However, a southern army officer told AFP news agency that one of their posts had been attacked and "major reinforcements" were expected in the area soon.
Meanwhile, clashes between rival supporters in the main city of Abidjan have claimed up to 20 lives since Monday.
Hundreds of residents have been fleeing Abobo, the pro-Ouattara suburb of Abidjan which has witnessed much of the fighting.
Many were leaving on foot as the public transport was not working because of the fighting.
Journalist Pauline Bax told the BBC that the fighting in the north of the city centres around a military barracks called Camp Commando and residents report hearing heavy artillery and sporadic gunfire.
According to the UN, about 500 people, mainly pro-Ouattara supporters, have been killed since the election results were announced at the beginning of December.
Related Internet Links
The BBC is not responsible for the content of external sites.