South Africa falls for horror cash-for-organs stunt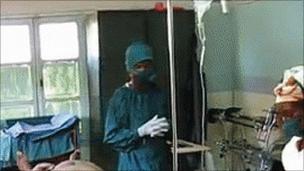 The authorities in South Africa have been duped by a "cash-for-organs" hoax, which turned out to be a publicity stunt for an upcoming horror film.
"We pay the best prices for all your body parts and organs," read pamphlets widely circulated in Johannesburg city.
Police were reported to be trying to track down "Dr Uba", who advertised quick and painless same-day procedures.
The Health Department also issued a statement of concern before the hoax was revealed on Thursday afternoon.
The flyers advertised Dr Uba's Clinic and directed people to an active website that had gory photos of the procedures.
It said Dr Uba was offering 5,000 rand ($700; £432) for a pair of eyes, 2,500 rand for a tongue and testicles could fetch up to 1,600 rand each.
"Stop suffering in silence. Rush to get that cash you need. If not for you, do it for your loved one," the website said.
By Thursday morning, newspapers, social networking sites Twitter and Facebook, and blogs were dominated by news of the surgery that was harvesting human body parts.
But the BBC's Pumza Fihlani in Johannesburg says that when it turned out to be a hoax, many people were shocked.
They said the publicity stunt was in bad taste given recent revelations about a kidney-trafficking syndicate, she says.
Last year, private hospital group Netcare admitted it had been involved in an international syndicate worth millions of dollars by performing several operations at its hospital in Durban in 2003.
The website for Dr Uba's Clinic now says: "Some things are worse than dying" - and directs people to a site for the forthcoming film, Nightdrive.
Justin Head, the film's director and writer, said the movie was about a group of tourists who encounter a poacher who hunts human body parts, South Africa's Eyewitness News reports.
Related Internet Links
The BBC is not responsible for the content of external sites.