South Africa: Toxic water 'threatens Johannesburg'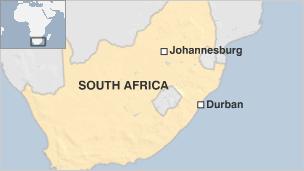 Rapidly rising acidic water in the abandoned gold mines under Johannesburg in South Africa could leak out early next year, the water ministry warns.
Its report recommends building pumps and monitoring stations immediately.
The toxic liquid has been building up in mine shafts which were dug more than a century ago and stretch for many kilometres under the city.
Trevor Manuel, a minister in the president's office, reassured residents that there was no cause for panic.
The BBC's Milton Nkosi in Johannesburg says the report, compiled by a group of experts in December, was published by the Department of Water Affairs on its website on Thursday.
The panel of experts warn that if the water is allowed to continue to rise, it will start decanting in low-lying areas in the vicinity of the former mine at Gold Reef City, popular with tourists.
The report states that water with low pH readings - the measure that indicates the acidity or alkalinity of a solution - will affect property and infrastructure.
It recommends that acid mine drainage intervention be made in the western, central and eastern basins as a matter of urgency.
The basins referred to are areas of interconnected mining tunnels underlying Johannesburg and surrounding areas.
The government has said it is feasible to have pump stations by March 2012.
Related Internet Links
The BBC is not responsible for the content of external sites.