Libya unrest: An eyewitness account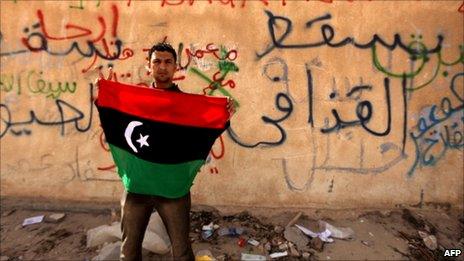 As the Gaddafi regime struggles to keep its grip on the Libyan capital, one Tripoli resident - who did not want to be identified for his own safety - described the latest scenes to the BBC.
At the moment Tripoli is still calm. People have mostly stayed behind closed doors since Sunday, although banks and a few shops opened their doors on Thursday - coffee stands, mini-markets mostly.
Students have not been going to school or university since Sunday's protests, despite repeated text messages ordering all teachers to go to work.
I do not know if schools opened, but I know that not a single student was seen anywhere in public, going or coming from school.
Petrol is being rationed at the moment, car owners can only refuel to the amount of about $4 (£2.50), according to several drivers.
But petrol is cheap here and for most cars used in Libya that is almost half a tank's worth for small cars or a quarter for others.
In the past couple of days, some of the public buildings that have been partially burnt and still standing were white-washed in what looks to be an attempt to hide scorched parts that are visible to the naked eye from the outside.
In the areas of Fashloom, Souk al-Juma, and others but particularly the aforementioned districts, Tripoli's poorest areas, all the streets have been immaculately cleaned.
People I know well have told me that on Sunday night and Monday morning, doctors were not allowed to document any of the bodies and injured that were brought in after the violent clashes.
They say plain-clothes men stationed at all hospitals were present and collecting dead bodies as well as those who are alive but injured with bullet wounds.
Medics do not know where they were taken. Neither do the families.
There have been no funerals in Tripoli in the past few days. I was also told by reliable people that many Libyan families were forced to sign papers that declare their sons were "killed by terrorists".
This is reminiscent of what happened at the time of the alleged Abu-Slim prison massacre in 1996, where 1,200 prisoners were killed. The government did not recognise events there until 2008, when for the first time ever, they started giving some families the death certificates of those who died there at the time, and in some cases - upon submission from relatives - financial compensation. No bodies were ever given to the families.
People here strongly believe there is a mass grave somewhere in the city collecting the latest dead.
There has been a campaign of fear running in the capital for the past four days.
Though there is very little evidence of any presence of security forces on the streets of Tripoli in broad daylight, people are well aware that the country's most powerful brigades are surrounding the capital, including the mercenaries and other armed security personnel who are on standby at their headquarters.
A reinforced network of plain-clothes security personnel and residential "snitches" have infiltrated the few shops or coffee shops which have opened, especially in the districts which have witnessed the most violent clashes between protesters and paramilitary troops, as well as what many describe as armed government supporters.
On his television channel, Allibiyah, Saif al-Islam Gaddafi said Libya will be "open to all journalists" to "reveal the truth" of what has been taking place on the ground.
He is flagging the argument against claims of aerial bombings in Tripoli that some news networks spoke of after speaking to residents here on the phone.
It is an argument he will win because there were no aerial bombings in Tripoli.
People here fear that this will cast doubt on what happened in the capital on Sunday night, a bloody battle that many claim left hundreds dead on that night and many shot the next day in several districts when they attempted to come out in small numbers to protest.
They say "it's the use of anti-aircraft weapons on the ground against civilians including the presence of jets flying over that prompted some to label the attack as 'bombing' in their panic to attempt to describe the scene here".
The Libyan leader's son also promised that the government would take the visiting journalists on an aerial tour of areas and towns outside Tripoli, like Tajura, only 15km (nine miles) from the capital, and Zawiya, about 40km west of Tripoli. These have also been scenes of heavy confrontations. What he has not spoken of is access by road to these places.
There has been a call on state radio and television channels airing a statement from public security.
It says that those who collect weapons from armed trouble-makers and hand them in will be compensated and provided with immunity.
It is a call that many found bemusing, it seems.
"The civilians in the capital don't have weapons, whom are we meant to be disarming? The mercenaries that have shoot-to-kill orders or the brigades?" they ask with sarcasm.
After dark, a number of checkpoints manned by armed brigades appear in the capital, ones that thoroughly search cars as they make their way around the city.
On rare occasions, gunfire can be heard. For most who are behind closed doors, they can only wonder about where it is coming from or who or what it was aimed at.
Many believe it is simply being done to scare people into succumbing to the status quo, one that remains confusing to many and highly unacceptable to most.