Tunisia PM Mohammed Ghannouchi's exit boosts protesters
By Magdi Abdelhadi
Regional analyst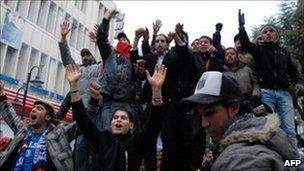 The resignation of Prime Minister Mohammed Ghannouchi will be hailed as a huge victory for many Tunisians who supported the revolution.
Ever since they forced former President Zine al-Abidine Ben Ali to flee the country last month, the protesters have insisted that their revolution will never be complete until all politicians who served the ousted leader have left office.
Mr Ghannouchi was the last one remaining from the Ben Ali government. He had been Mr Ben Ali's prime minister for many years.
It is not entirely clear what persuaded him finally to step down.
He told a press conference in Tunis that he did not want to be "the man of oppression" who can take "decisions that can lead to fatalities".
This may have been an attempt by Mr Ghannouchi to distance himself from the latest clashes in Tunis between police and demonstrators that left two people dead.
Mr Ghannouchi also said that there were still forces trying to hijack the revolution, and that his decision to step down was in the best interests of Tunisia and the revolution.
While this comment reflects a widely held view in Tunisia that members of the former administration are still trying to undermine the prospect of change, it is not precisely clear what Mr Ghannouchi had in mind.
One thing is certain though. His decision will strengthen the resolve of the Tunisian protesters to insist on a clean break with the past, demanding that more heads should roll.
This might increase the risk of more conflict and street demonstrations.
Further afield, Mr Ghannouchi's resignation will spur the Egyptian demonstrators in Cairo in their campaign to depose their current interim cabinet.
They too have insisted all along that interim Prime Minister Ahmad Shafiq Kamel, together with several other key ministers, are tainted by having been appointed by the ousted President Hosni Mubarak.