Libya unrest: Africans tell of Libya escape relief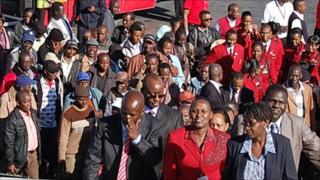 Exhausted but relieved, more than 150 passengers have walked off a plane at Kenya's Nairobi airport after being evacuated from Libya.
For some, afraid of being labelled as mercenaries fighting for Libya's embattled leader Muammar Gaddafi, it was a dangerous journey.
"The situation was so bad… even we did not think we would come out of Libya," Kenyan civil engineer Aggrey Simiyu told the BBC at the airport.
He said he and his colleagues had at first attempted to get Tripoli via the coastal town of Misrata, east of the capital.
But the army sent their convoy back at a roadblock, apparently for their own protection.
"The army told us we were not going to pass through this way because we are blacks. They think people who have been hired to kill Libyans mostly are using blacks," he said.
"We are blacks. Maybe they think we might be mercenaries."
They returned to their camp, but eventually found another route to Tripoli.
"Now we have come out - we are happy and we thank God."
'Beating each other'
The passengers - mostly Kenyans but including than 60 others from other African countries, among them Ugandans, Tanzanians, Rwandans and Zimbabweans - spoke of similar fears.
The Kenyan ambassador to Libya, Anthony Muchiri, said Tripoli airport resembled a refugee camp as between 30,000 and 40,000 people were trying to get out.
Kenyan evacuee James Njue agreed the airport was chaotic.
"You're told to go inside but you cannot go inside, there were so many people there," he said.
"After they were told to make a line all of them would come - they would start to beat others."
An official from the Ugandan embassy in Tripoli almost broke down in tears of relief on her arrival in Nairobi.
"I can assure you that even if you had $10,000, you could not get a flight to get out of Tripoli," she said.
"There were about 10,000 people who were stuck at the airport trying to get any plane that was available.
"We took almost two days just trying to get inside the airport to get out - so without the Kenyan offer we would still be languishing somewhere in Tripoli."
Libya has for years been a stepping stone for illegal migrants trying to reach Europe.
The 151 passengers who arrived in Nairobi are the lucky ones - many other African migrants are unable to leave, especially in eastern and southern parts of the country.
"The roads are closed in Benghazi, the airport is closed," Mr Muchiri explained.
"The roads from the south coming to Tripoli are closed."
Mr Muchiri said Kenya's foreign ministry was liaising with the US and UK embassies to ensure Kenyans left behind were safe.
However, many of the sub-Saharan Africans unable to leave Libya are from West Africa.