Ivory Coast: UN experts attacked in Yamoussoukro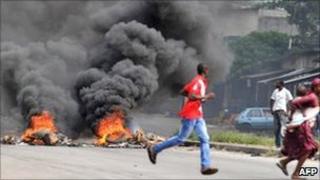 United Nations experts in Ivory Coast came under fire as they were trying to investigate reports of a violation of the arms embargo imposed on the country, the global body says.
The UN team was attacked in the capital, Yamoussoukro.
They were looking into reports that Belarus had provided attack helicopters for supporters of Laurent Gbagbo, who refuses to give up the presidency.
Belarus has denied the allegations as "groundless".
The UN Sanctions Committee on Ivory Coast says it has not been able to positively confirm the shipment, though it said UN personnel should continue monitoring the situation.
A planned meeting of the UN Security Council to discuss the reports has been cancelled.
Meanwhile, Ivory Coast's former rebels say they are ready to take military action against Mr Gbagbo if fighting continues between his supporters and those of his rival, Alassane Ouattara.
Mr Ouattara is widely seen as the winner of November's presidential poll.
Neither Mr Gbagbo nor Mr Ouattara have publicly commented on the rebel spokesman's warning.
Rebellion
Clashes between Mr Gbagbo's and Mr Ouattara's supporters have prompted the UN to warn the country is at risk of relapsing into civil war.
An armed rebellion in 2002 split the world's largest cocoa producer between the north, held by the New Forces, and the government-controlled south.
Much of the recent fighting has centred on the main city of Abidjan between rival supporters.
However, skirmishes in the west of the country last week between the former rebels and pro-Gbagbo forces have led to a surge in the number of civilians fleeing to neighbouring Liberia.
The clashes were the first time the ceasefire between the two armed sides had been broken in six years.
Cisee Sindou, spokesman for the former rebel group New Forces, told the BBC World Service that no military operation was imminent.
But the group was, he added, prepared to act because of the ongoing "suffering" of people in Ivory Coast.
"Believe it or not, it's not going to be a war between Forces Nouvelles [New Forces] and the Gbagbo militias," he said.
"We're just going to take him out. It's going to be surgical and we know what we're doing."
The New Forces spokesman insisted his group was not seeking to inflame the situation.