South African columnist Kuli Roberts in 'racism' furore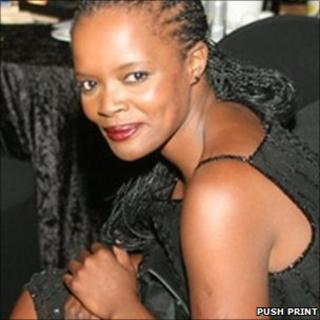 South African columnist has apologised for an article that has been criticised as racist against mixed race people, known as coloureds in South Africa.
Kuli Roberts said she had meant no harm in her column that considered the pros and cons of dating mixed race women.
Following complaints from the public, the Sunday World tabloid has discontinued her column.
The South African Human Rights Commission says is it investigating the incident because of the furore.
The BBC's Pumza Fihlani in Johannesburg says Ms Roberts is known for her outlandish and controversial remarks.
But her latest column about mixed race women seems to have struck a raw nerve, she says.
"I am truly sorry to all those upset by my last column. No harm was intended. Once again it was never my plan to upset and I pray forgiveness," Ms Roberts said on Twitter.
Media firm Avusa Limited, which owns the tabloid, said the article had been derogatory and enforced racial stereotypes.
One of the nine positive points listed about mixed race women said: "You will never run out of cigarettes."
The nine negative points included saying that mixed race women liked to fight and were violent.
Her column comes amid a row over remarks made about mixed race people by newly appointed government spokesperson Jimmy Manyi.
An interview he gave in March 2010, when he was director-general of the labour department, re-surfaced last week.
In it he said, there was an "over supply" of people from the coloured community in the Western Cape province.
The ruling Africa National Congress (ANC) has distanced itself from Mr Manyi's remarks, saying they were "disturbing" and "unacceptable".
The government's communication department has issued an apology on behalf of Mr Manyi.
Although racial groups have integrated fairly well over the years since the end of white minority rule in 1994, race is still a sensitive subject for many South Africans, our correspondent says.