Libya unrest: Egyptian groups send aid convoys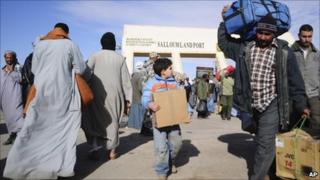 As the international community gears up to provide humanitarian assistance to Libya, some Egyptians as well as Libyan expats have taken matters into their own hands.
One of the most active groups has been led by Dr Gamal Abulazayem.
Mainly comprised of Egyptian medics who support the Libyan uprising, the group organises via Facebook and has already sent more than 250 tonnes of food, including sugar, oil, rice, pasta and flour.
They have also sent over drugs and medical equipment, as well as at least 50 volunteer medics who are helping out in clinics and hospitals in the east of Libya.
Dr Abulazayem says the main challenge now is to better co-ordinate the relief, in particular to ensure that the right medical supplies are getting to the neediest areas.
Donations
A more eclectic, but no less passionate, group of volunteers was gathered recently at the flat, dusty border crossing, waiting for their help of five small lorries to be cleared by Egyptian customs.
The group - Libyan expats from Dubai, the UK and the US - met in Cairo and were in the process of sending a variety of drugs, baby food and medical equipment, as well as some food, to Benghazi and al-Bayda.
The leader of the group was 38-year-old Alaeddin Mgariaf, who travelled from Dubai but spent 11 years living in London.
"Our people are back there [in Libya] and they need us," he said.
"We feel this is the minimum we can do for them. We'll do it as long as we can, as long as people inside need us."
The group says it has raised US$400,000 (£250,000) over the past few days in donations from Libyan expats around the world.
'Duty-bound'
Mahmoud Traina, 28, is giving more than his money - he is also giving his time.
A cardiologist from Los Angeles, he says his parents were forced to leave Libya before he was born because of the political situation in the country.
He is now going to help at a hospital in Benghazi for a few days.
"The people have suffered for 42 years under the tyranny of this ruler [Colonel Gaddafi]. If there is anything we can do, however small, to help the people through this struggle, I am ready to do it."
Also waiting in the sunshine for permission to take his fruit and vegetables into Libya was Ahmad Mahmoud Ahmad, a lorry driver from Alexandria.
He regularly drove goods into Libya before the unrest and says he felt duty-bound to help.
"We have benefited and made a lot of profit in the past. We now have a responsibility to support our Arab brothers," he said.
Aid convoys have been crossing this border post for several days, amid sketchy reports from Libya suggesting some shortages of basic foodstuffs and medical equipment.
For the volunteers here the prime motivator is humanitarian assistance, but for the Libyan expats who are involved in the charity work there is also the hope that they are helping to rid their homeland of Colonel Gaddafi.
"We want to go back home," says Alaeddin Mgariaf.
"In a matter of days, we hope, this will all be over and Libya will be free."