Libya unrest: Fuel tanker explodes in capital Tripoli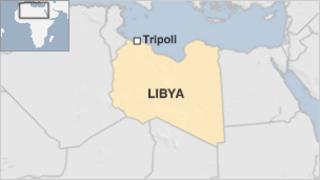 There has been a series of large explosions in Libya's capital, Tripoli.
They were caused by oil tanker which had fallen on its side. It is not clear whether the incident is an act of sabotage.
BBC correspondents staying in a hotel near the blasts report seeing a fire, smoke, police and fire engines.
Traffic has been stopped and foreign reporters have not been allowed near the scene. One report said several journalists were attacked by residents.
The explosions come after two weeks of violence which has seen Colonel Muammar Gaddafi lose control of much of Libya.
Rebels have taken over much of the east of the country, and several towns not far from Tripoli have also fallen to them.