Mali French embassy blast: Tunisia suspect flees jail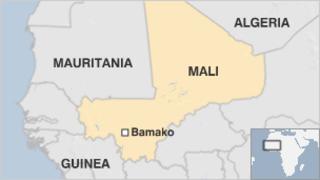 A Tunisian suspect in January's attack on the French embassy in Mali has escaped from prison, the government says.
No details have been released of how Bechir Sinoun, 24, got away.
At least two people were injured when explosives were thrown at the mission in Bamako.
Police say he is a member of al-Qaeda's North African unit but the group has not said whether it carried out the attack.
The head of Mali's intelligence agency Mami Coulibaly has been sacked over the incident.
Al-Qaeda in the Islamic Maghreb has staged several attacks in Mali and neighbouring countries.
It emerged from Islamist groups fighting in Algeria in the 1990s.