Ivory Coast: BBC and RFI go off air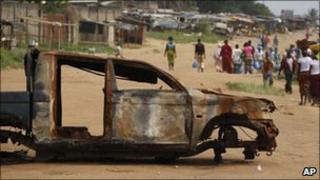 International radio stations such as the BBC and France's RFI have been stopped from broadcasting on FM in Ivory Coast.
The body which regulates foreign broadcasts in Ivory Coast denied taking any action against the stations.
The BBC said it did not know why the broadcasts had stopped and was investigating.
Supporters of Laurent Gbagbo, who refuses to cede power, have often accuse the Western media of bias.
He is widely believed to have lost last November's election to Alassane Ouattara.
Harassment claims
International sanctions have been imposed on people and companies seen as close to Mr Gbagbo in an attempt to force him from power.
Both sides have been accused of trying to intimidate the media during their dispute.
Earlier on Wednesday, nine newspapers closed down in protest over what they say is harassment by supporters of Mr Gbagbo.
The papers - which are either independent or back Mr Ouattara - said their staff had suffered more than two months of physical threats.
The attacks have been condemned by international media rights organisation Reporters Without Borders.
The group also said that the main transmission centre of RTI, the state-owned broadcaster controlled by the Gbagbo camp, had been recently attacked by Ouattara supporters in Abidjan.
Separately, church officials say that about 60 families - 200 people - are still being held as human shields by armed men in a church in the Abidjan district of Abobo, scene of recent clashes.
BBC world affairs correspondent Mark Doyle says the BBC's FM transmitter in Abidjan is in a part of the city that has suffered badly from political unrest.
Our correspondent says there is an atmosphere of fear in many parts of the country.
Recent clashes between Mr Gbagbo's and Mr Ouattara's supporters have prompted the UN to warn the country is at risk of relapsing into civil war.
An armed rebellion in 2002 split the world's largest cocoa producer between the north, held by the New Forces, and the government-controlled south.
The elections were intended to reunify the country.