Key figures in Libya's rebel council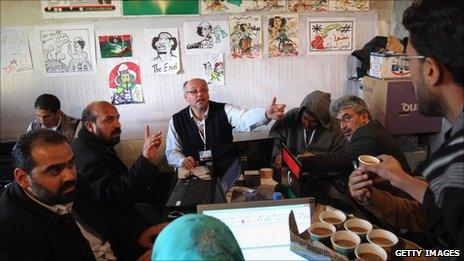 Shortly after the beginning of the popular uprising against Col Muammar Gaddafi's regime in mid-February, residents of towns and cities in eastern Libya formed an interim rebel administration.
The National Transitional Council (NTC) aimed to provide political and military leadership, organise basic services and represent Libyans abroad.
Its leaders said the council was not a government, but aimed to "steer" Libya into a post-Gaddafi era and then "guide the country to free elections and the establishment of a constitution for Libya". They stressed they would only serve for an interim period and would not to stand in future elections.
According to its website, the council currently has a chairman, vice-chairman, representatives with various portfolios, and 33 members representing the regions and cities of Libya. Some of their identities have been kept secret for safety reasons. There is also an executive board, which functions like a cabinet.
However, it is not yet clear if the council is ready to fill the void in a country with little civil society and no real political institutions. It says it is ready, but its meetings have been described as chaotic and its leadership as contradictory. It has not always been clear who the council represents.
The assassination in July of the rebel military commander, Gen Abdul Fattah Younis, apparently by members of an Islamist faction after he was taken into custody for questioning, also raised questions about unity.
"The rebels have not put their house in order. They so far have not resolved their ideological, political and tribal differences. The rebels have not shown that they are really a functioning government so far," Fawaz Gerges, professor of Middle Eastern Politics at the London School of Economics, told the BBC.
"Misrata is Libya's third city, but it does not recognise the NTC as the sole representative of Libya," he added. "You also have east and west. There are also tribal differences within the east and west. In addition to that, you have ideological differences - Islamists and nationalists," he added. "That is why the challenges facing a new Libyan government are tremendous."
Mustafa Mohammed Abdul Jalil - Chairman
Mr Abdul Jalil quit as Libya's justice minister on 21 February in protest at "the excessive use of violence against unarmed protesters" by the state, the first member of the General People's Committee to do so.
He was born in the eastern city of Bayda - the historic seat of the Sanusi dynasty and one of the first places to revolt against Col Gaddafi's rule - in 1952 and studied Law and Shariah (Islamic Law) at the University of Libya.
After graduating, Mr Abdul Jalil worked as a lawyer in the public prosecutor's office in Bayda before becoming a judge in 1978. In 2002, he was appointed president of the Court of Appeal. His final post before being named justice minister in 2007 was president of the court in Bayda.
Such a reputation led to him being brought into the regime by Col Gaddafi's son, Saif al-Islam, to cast it and himself in a more reform-minded light.
As justice minister, Mr Abdul Jalil won praise from human rights groups and Western powers for his efforts to reform Libya's criminal code.
According to a leaked US diplomatic cable from January 2010, he was well regarded by staff at the Libyan justice ministry and several judges, who considered him fair, while US ambassador Gene Cretz described a meeting with him as "positive and encouraging".
"While Abdul Jalil has given the green light to his staff to work with us, he noted that many Libyans are still 'concerned' about the [US government's] support for Israel, and that terrorism stems from the perception that Europe and the US are 'against' Muslims," Mr Cretz wrote.
The cable also said Human Rights Watch believed Mr Abdul Jalil's drive to change the system was driven more by his conservative point of view rather than a reformist agenda.
But in an unprecedented move in January 2010, he publicly defied Col Gaddafi in a televised speech to the annual General People's Congress by declaring that he intended to resign due to his "inability to overcome the difficulties facing the judicial sector".
He cited the continued detention of 300 political prisoners despite court rulings acquitting them, and the release of prisoners sentenced to death without the families of their victims being informed.
"It's as if he just wouldn't lie," Heba Morayef of Human Rights Watch told the Wall Street Journal. "I have never seen an Arab minister of justice who will publicly criticise the most powerful security agencies in the country."
But Mr Abdul Jalil's dramatic resignation was rejected by the Libyan leader. According to another US diplomatic cable, some observers believed that Col Gaddafi, who publicly rebuked Mr Abdul Jalil for making the remarks at the GPC, preferred to fire him on his own terms, while others said Saif al-Islam Gaddafi would not let him step down.
People in eastern Libya, however, reportedly welcomed the comments.
When the protests first began in Benghazi in mid-February, the government sent Mr Abdul Jalil to deal with them. After witnessing the shooting and detention of peaceful demonstrators, he resigned as minister. Within days, he had become the chairman of the rebel transitional national council.
"We are the same as people in other countries, and are looking for the same things," Mr Jalil said. "We want a democratic government, a fair constitution, and we don't want to be isolated from the world anymore."
On 22 August, as the rebels battled Col Gaddafi's supporters for control of Tripoli, Mr Abdul Jalil declared that the "Gaddafi era is over" and promised that the NTC wanted to build a country built on the principles of "freedom, equality and transparency".
He added: "My role after the fall [of the regime] will continue unless I lose control of the goals and inspiration that I aim for. But I expect that revolutionaries will be up to the responsibility."
Mahmoud Jibril - head of Executive Board
Sometimes referred to as the NTC's prime minister, Mr Jibril is head of its Executive Board. He was formally responsible for foreign affairs.
Before the uprising, he was involved in a project called "Libyan Vision" with other intellectuals, which sought to establish a democratic state.
Born in 1952, Mr Jibril has both a master's degree in political science and a PhD in strategic planning and decision-making from the University of Pittsburgh in Pennsylvania.
After completing his doctorate in 1984, he taught strategic planning and decision-making at the university for several years. He also wrote several books and ran leadership training programmes in several Arab states.
He later became the head of the Libyan National Planning Council. Then in 2009, he was appointed chairman of the National Economic Development Board (NEDB), which was founded in the mid-2000s to encourage investment and economic growth in Libya. He reported directly to the prime minister.
A leaked US diplomatic cable from November 2009 written by the US ambassador to Libya, Gene Cretz, described Mr Jibril as "a serious interlocutor who 'gets' the US perspective".
"He is also not shy about sharing his views of US foreign policy, for example, opining that the US spoiled a golden opportunity to capitalise on its 'soft power' (McDonald's, etc) after the fall of the Soviet Union in 1989 by putting 'boots on the ground' in the Middle East," Mr Cretz wrote.
An earlier US diplomatic cable described Mr Jibril as "reform-minded".
Abdul Hafez Ghoga - Vice-chairman, spokesman
Mr Ghoga is a Benghazi-based human rights lawyer and community organiser.
The former president of the Libyan Bar Association was arrested on 19 February, shortly after the anti-government protests began, but was released a few days later.
He later rose to prominence after declaring himself the spokesman of an interim council, rivalling the one created by Mustafa Abdul Jalil.
Mr Ghoga was subsequently named vice-chairman and spokesman of the NTC at the beginning of March.
''The most urgent task we face is to free the people of Tripoli from Gaddafi,'' he told the Sydney Morning Herald. ''If and when that happens, then we will begin the task of planning national elections, which we hope can be held within three months.''
But Col Gaddafi's son, Saif al-Islam, portrayed Mr Ghoga as a turncoat. He told al-Sharq al-Awsat newspaper: "Two weeks ago, he was sitting in Col Gaddafi's tent cheering and applauding, and he even appeared on al-Jazeera defending Libya and the regime. However, now he is talking about toppling the regime?"
Omar al-Hariri - military affairs
Mr Hariri is one of the officers who took part in the military coup that brought Col Gaddafi to power in 1969. The former general was later jailed after they fell out.
Col Lamine Abdul Wahhab, a member of the rebel military council for the Benghazi area, said he believed the appointment of Mr Hariri would improve the rebel armed forces' co-ordination. "He is a well-known personality and very popular as he tried to overthrow Gaddafi," he told the Reuters news agency.
Mr Hariri is a member of the Farjan tribe, which is based in western Libya and has a strong presence in and around Col Gaddafi's stronghold of Sirte. The Wall Street Journal said his appointment might also be aimed at wooing influential tribes.
In an interview with the Globe and Mail newspaper on 2 March, Mr Hariri, 67, recounted how he had taught Col Gaddafi to drive a car when they were both young army officers. The two men later conspired to topple King Idris in 1969.
Mr Hariri said he regretted that the officers did not then have a clear plan for the new Libya and that he did not want to "make the same mistakes".
"This time, the people will be our safeguards," he said. "They will elect a new president and he will serve for a limited time. He could be removed if he does not serve the people. And, of course, we will need a parliament, and a multi-party system."
In 1975, while serving as secretary general of the revolutionary cabinet, Mr Hariri began to organise a plot to overthrow Col Gaddafi with his fellow officers.
The plot was discovered and about 300 men were arrested, he said. Four died under interrogation and 21 were sentenced to death, including Mr Hariri.
He spent the next 15 years in prison awaiting execution, four and a half of them in solitary confinement.
Then in 1990, Col Gaddafi unexpectedly commuted Mr Hariri's death sentence and he was placed under house arrest in the eastern city of Tobruk. The security forces watched him closely until the uprising began.
Mr Hariri, who is feted as a hero by the rebel fighters when he appears in public, said the Interim Transitional National Council's role was to "counsel" the young people who initiated the uprising.
"Right now I am telling them freedom is costly, and nothing is more precious than Libyans' blood," he explained.
Ali Issawi - foreign affairs
Mr Issawi resigned as Libyan ambassador to India on 21 February in protest at the government's "use of violence against its citizens" and deployment of "foreign mercenaries against Libyans." He later became a foreign affairs representative of the NTC and deputy head of the Executive Board, the council's cabinet.
Born in Benghazi in 1966, Mr Issawi has a PhD in privatisation from the Academy of Economic Studies in Bucharest, Romania. In 2005, he became director general of the Ownership Expansion Programme, a Libyan government fund encouraging privatisation, and founded the Centre for Export Development in 2006.
The next year he became Libya's minister of economy, trade and investment. He was the youngest person to have occupied the post.
Following a cabinet reshuffle in March 2009, Mr Issawi was left without a post. A leaked US diplomatic cable said the French embassy in Tripoli believed the move was "related to accusations of corruption".
However, the cable also noted: "Issawi twice attempted to resign last year over disagreements with [Prime Minister al-Baghdadi Ali] al-Mahmoudi but was convinced to stay." Sources also said Mr Essawi was also a member of a "shadow" committee set up in 2008 by Saif al-Islam Gaddafi, which had been "charged with hammering out specifics" of a government reform programme, the cable added.
Ahmed al-Zubair Ahmed al-Sanusi - political prisoners
The 77-year-old dissident was Libya's longest-serving "prisoner of conscience".
He was accused of conspiracy in an attempted coup against Col Gaddafi in 1970 and spent 31 years in prison, many of them in solitary confinement. He was released in August 2001, on the occasion of the 32nd anniversary the revolution.
"Every time a door opened, I never knew if it was going to be someone taking me to my execution," he told the BBC.
"Now we are trying to build a new country under the rule of law. We are united. Tripoli is our capital, Benghazi is our city. It will be difficult after 42 years of Gaddafi. It will take a long time. But the Libyan spirit is there. The people understand. They can wait."
Mr Zubair is the lone descendant of Libya's last king, Idris al-Sanusi, among the rebel leadership.
Fathi Mohammed Baja - political affairs, Benghazi
A US-educated professor at the University of Benghazi and a member of Benghazi's city council.
Mr Baja, who has a PhD in political sciences from Morocco, was once accused by Libya's state security apparatus of writing articles critical of the government.
The 58-year-old told Time magazine on 22 February: "We thought Gaddafi's revolution was for freedom and human rights. But the four decades since then has been total chaos. It is not even a state. It is a brutal dictatorship."
He said he was certain that the next generation in Libya would see true democracy. "Gaddafi has stolen people's money, Libya's wealth," he added.
Mr Baja helped draft a manifesto for the revolution, which had two major principles: national unity and democracy.
"It is for the unity of all Libya - that is the [first] thing. The second is that this revolution is going towards the creation of modern Libya, freedom and democracy based on a pluralistic society, based on human rights, participation of all parts of Libya in creating their government and their institutions," he explained.
In addition for being responsible for political affairs, Mr Baja heads the Political Affairs Advisory Committee and represents Benghazi on the NTC.
Fathi Tirbil Salwa - young people
The young lawyer and activist played a significant part in sparking the uprising.
Mr Salwa, who studied law at Benghazi's Gar Younis University, helped organise a peaceful demonstration in Benghazi on 15 February by the families of some of the 1,200 inmates of the notorious Abu Salim prison who were massacred by Libyan security forces in 1996 in retaliation for a revolt in the eastern city.
The protesters were calling for human rights, but the local Revolutionary Committee ordered that Mr Tirbil be arrested.
When local people gathered outside the police station where Mr Tirbil was being held to demand his release, officers reportedly opened fire on them.
Over the next few days, the anti-government protests in Benghazi grew more widespread and spread to several other eastern cities, before eventually reaching Tripoli.
Salwa al-Dighaili - women, legal affairs
A Benghazi-based lawyer, who is from a prominent family in eastern Libya. Her uncle was imprisoned for opposition activities.
Before the uprising Ms Dighaili, who has a PhD in constitutional law and previously taught at Benghazi's Academy of Graduate Studies, played an active role in the Benghazi Bar Association. Its members campaigned for legal reforms, an end to corruption. They also demanded the replacement of the head of the association, a Gaddafi loyalist. He was dismissed a week before the protests began following a visit to the city by the Libyan leader.
"We might have been satisfied with this in the past, but after Tunisia and Egypt, we knew we could ask for more," Ms Dighaili told al-Masry al-Youm. "And once they started firing on protesters, we knew there was no going back."
Benghazi's lawyers, including Ms Dighaili and Fathi Tirbil, had a prominent role in the early anti-government protests and helped set up the council.
Ms Dighaili is responsible for women's affairs and legal affairs on the NTC, and heads the Legal Advisory Committee.
Other members of the council
Abdul Ilah Moussa al-Meyhoub - legal affairs, Quba
A French-educated law professor who once wrote a scathing critique of Col Gaddafi's Green Book, in which the Libyan leader set out his political and social theories, according to the Wall Street Journal. He was formerly dean of the law faculty at Gar Younis University in Benghazi and represents the town of Quba.
Ahmed Abd Rabuh al-Abar - economic affairs, Benghazi
A businessman whose family has historic ties to the al-Sanusi dynasty.
Suleiman al-Fortiya - Misrata
A British-educated engineering professor who taught at King Faisal university in Saudi Arabia before the uprising.
Mohammed al-Muntasir - Misrata
Uthman Suleiman al-Megrahi - Batnan
Ashour Hamid Bu Rashid - Derna
Hassan Ali al-Dirwai - Sirte
Mustafa al-Salihin Mohammed al-Huni - Jafra
Hassan Mohammed al-Saghir - al-Shati
Idris Mohammed Mohammed Bu Fayed
Related Internet Links
The BBC is not responsible for the content of external sites.