Benghazi residents ready for battle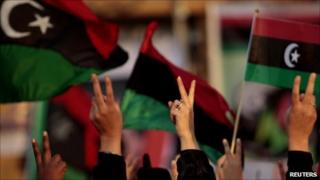 "For the first time, I feel proud to be Libyan," said Sabha in the rebel-held city of Benghazi. "We'll do whatever it takes, for as long as it takes, to get rid of Colonel Gaddafi."
Even though pro-Gaddafi forces have retaken ground recently, young men here continue to sign up to join the rebel forces.
Sabha would like to be out on the streets taking part in the rallies but schooling has been suspended in Benghazi, so she's looking after her six children at home.
They spend their days in front of the TV or on the Playstation.
Her husband, Amer, has bought a gun. "I keep it behind the sofa, over there," he told the BBC.
The sofa and curtains are plush with burgundy brocade and delicate bowls of pink pot pouri are on display. Amer is a wealthy man.
He doesn't need to put his family in a situation in which he feels he needs a gun behind the sofa to protect them.
"I could take my family abroad any time but I wouldn't miss this moment for the world. No Libyan would," he said.
Live rounds
Many Libyans who have lived abroad for years are choosing this moment to return.
The head surgeon at Benghazi's main hospital says he has too many ex-patriot doctors volunteering to know what to do with.
"We are also better stocked for medical supplies than we were under Colonel Gaddafi," the doctor said. "Private pharmacists have opened their stockrooms to us".
But the worst cases don't make it back from the front to Benghazi in time.
In the intensive care unit, machines blinking and bleeping, the doctor gestures to a man in his early 20s, who has been shot. "He's not going to make it," he said.
Twenty-six-year-old Yasser has survived. He was shot through the stomach on 15 February, the first day of the protests in Benghazi.
"We were expecting Colonel Gaddafi's police to use tear gas, but they'd started on live rounds straight away," he said.
The bullet that hit Yasser went through him and killed the protester behind him.
His mother Tahini is grateful her son survived. But no sooner did he come home from hospital, than her other son, Fatheh, went to the front.
"All the boys from the neighbourhood have gone to fight," she said.
Tahini lives in a closely knit community of barely furnished concrete apartment blocks in narrow streets.
Morale boost
The neighbourhood's boys at the front have one mobile phone between them.
When they call back to one of their homes in Benghazi, the boys go through a roll call of names - who's OK, who's not.
"We run into each other's houses to bring the news," said Tahini.
Otherwise she and her neighbours stay glued to the television.
On one channel Tahini caught sight of her son manning an anti-aircraft missile. He probably does not know how to use it.
Like most of the other opposition fighters, Fatheh is not a trained soldier. He is a teacher.
"I'm proud of my son fighting," said Tahini. "He is fighting for freedom, for his country and I am prepared for him to risk his life doing it."
Young men going to the front seems to boost the morale of families in Benghazi.
What dents it is the news of Zawiya, the provincial town far across the country in the Gaddafi-controlled West, which has been a pocket of resistance for weeks.
Abduction fear
State TV in Libya says it is now under the control of the government.
Libyans in Benghazi are desperate with worry for their friends and relatives in Zawiya.
"In Zawiya, Gaddafi's forces are abducting people and torturing them - in Tripoli too," one man said.
The BBC team trying to get into Zawiya saw this with their own eyes, when they too were detained and beaten by Col Gaddafi's forces.
They said the treatment being meted out to Libyans was far worse.
Families in the east will tell you they are more worried about the abductions than the battles on the frontline.
"It frightens people in the Gaddafi-controlled West and stops them from joining us," said Amer.
Like everyone we speak to in Benghazi, he is convinced that the ordinary Libyan soldiers fighting for Col Gaddafi are only doing so because their families are being threatened by his regime.
Yasser shows me some footage on his mobile phone, of men in uniform lying on the ground.
They are blind-folded, their hands are tied behind their backs and they have been shot in the head.
Yasser says they were shot because they refused to open fire on fellow Libyans.
We cannot independently verify this is true. But military figures who have swapped sides say it happens.
Col Gaddafi says repeatedly on television at home and abroad that all his people love him.
He told one channel the opposition in the east was the work of foreigners from Afghanistan and called on Libyans in the east to rise up before foreigners destroyed Benghazi.
Kebab stalls
There is rubbish on the streets on the streets of the opposition capital, and the crackle of young men practising with their new guns.
But, Benghazi is actually buzzing. After dark, people come out to mingle.
A man strolls down a street bathed in the light from open shops. His wife beside him, he leads a small child by the hand.
The family smile at other children milling around waving the revolutionary flag. People stand chatting by the kebab stalls and the newspaper stands.
"Under Gaddafi we were not even free to chose what to read," Amer said. "Now we can say what we want."
And that new-found freedom is flourishing.
A barber's shop is crowded.
"They're mostly here to talk," the owner said. "The only people coming in for a shave and a haircut are the men going to the front so they can look their best in case the worst happens."
He is shaving Usama, who is going to fight after two days of training in how to use his gun.
He is sombre, while the other men shout about fighting for freedom. He really is here to make himself presentable in case he gets killed.
Some of the names in this article have been changed for their own safety.