Clinton meets Libyan opposition figure Mahmoud Jibril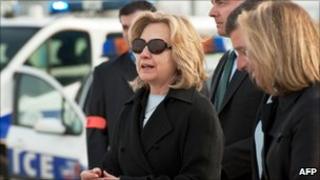 US Secretary of State Hillary Clinton has met Libyan opposition leader Mahmoud Jibril and discussed ways the US can aid efforts to depose embattled Libyan leader Muammar Gaddafi.
The talks in Paris lasted for about 45 minutes, a US official said but gave no details of what options were discussed.
The developments came as G8 ministers met in Paris to consider calls for a no-fly zone over Libya.
A senior US official said the US had made no decision to back the move.
Mr Jibril is an official in the newly formed Interim Governing Council, which is based in the rebel-held eastern Libyan city of Benghazi.
'Talk, little action'
Rebel leaders have appealed for international help in limiting Col Gaddafi's resources as his forces maintain their onslaught on rebel positions in the east of Libya.
But the BBC's Kim Ghattas, travelling with Hillary Clinton, says that while all sides are insisting there is a sense of urgency about the situation in Libya, at the G8 gathering there seemed to be only more calls for talks and meetings, little concrete action.
It is abundantly clear the US does not want to be dragged into enforcing a no-fly zone or any other military action without a firm commitment by others that they will participate actively, our correspondent says.
A senior American official said that while the Arab League had called for a no fly zone, it had also rejected any foreign military intervention in Libya.
The US, said the official, wanted to know more about what this meant. He added Washington was encouraging the Arab League to take the lead on actions it wanted to see carried out.
Among the biggest opponents of a no-fly zone is Turkey, whose Prime Minister Recep Tayyip Erdogan told an international forum in Istanbul on Monday that intervention might be "counter-productive" and could have "dangerous consequences".
Although not a member of the G8, Turkey is part of Nato, which is expected to consider a no-fly zone on Tuesday. The G8 is made up of the US, Russia, Britain France, Germany and Italy, along with Canada and Japan.
Hillary Clinton heading to Cairo on Tuesday where she will meet members of the new Egyptian government and attend a series of public events.