Gaddafi propaganda fails to convince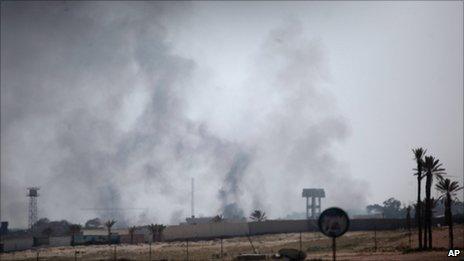 Tripoli is hit by coalition bombs and missiles every night, yet there is little reliable evidence of any casualties. The coalition countries know that killing civilians would be disastrous in this war, and they are plainly making big efforts to avoid it.
Libyan television often shows news pictures which purport to be those of civilian victims, but they are impossible to verify. The authorities here are anxious to persuade the outside world that large numbers of civilians are dying.
And there is a precedent. In 1986, when the US bombed Tripoli, international opinion quickly turned in favour of Libya because there were many civilian casualties, and the international journalists who were in Tripoli at the time were able to confirm them.
Colonel Muammar Gaddafi adopted a young girl as his daughter just as she was dying from her injuries, and to this day journalists often repeat the line that his daughter was killed in the bombing. It was a particularly clever propaganda stroke.
But times have changed, and so has military technology. The old myth of pinpoint precision bombing has become much more of a reality.
After several RAF pilots were on the way to bomb Libya during the past week, they were recalled to base when it became clear (either from satellite observation or from infiltrators on the ground) that civilians were present at the target.
The authorities here are having a much more difficult time now persuading people that the widespread killing of civilians is happening again.
Earlier, international journalists in Tripoli were bussed to Tajoura on the outskirts of Tripoli. The suburb was genuinely targeted by the coalition last night, and as the bus arrived, smoke could be seen coming up from a military base and a mobile radar.
Government officials showed the gathered media a farmhouse a couple of miles away, which they said had been hit by a missile.
There certainly were fragments from a missile lying around, and a smallish hole in the ground where something had possibly landed.
But the holes in the wall, which the officials said were the result of shrapnel, could only have been made by someone firing an automatic rifle at it.
Inside the house there were oddities: plaster strewn around the floor, even though the ceiling was undamaged.
The farmer, a strong Gaddafi supporter, said his 18-year-old daughter had been injured. However, the gardener said it was a four-year-old boy who had been hurt.
It all looked like a rather inadequate set-up, done for effect.
If you want people to believe that civilians are being killed in large numbers, you have to show them incontrovertible evidence that it is actually happening.