Zimbabwe: MDC's Lovemore Moyo re-elected speaker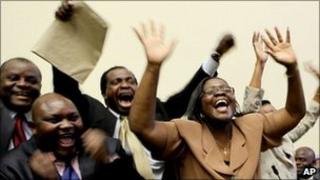 Zimbabwean MPs have re-elected a close ally of Prime Minister Morgan Tsvangirai as the speaker of parliament after his 2008 election was nullified.
Lovemore Moyo from the MDC party took 105 votes, defeating a candidate from President Robert Mugabe's Zanu-PF party who took 93 votes.
The vote in the hung parliament was controversial following allegations of bribery and the arrest of some MDC MPs.
Zanu-PF party and the MDC formed a unity government two years ago.
But tension is again rising ahead of possible elections this year.
Human Rights Watch has urged regional leaders to press Zanu-PF to end what the US-based group regards as the harassment and the arbitrary arrests of political opponents.
The call comes ahead of a Southern Africa Development Community (Sadc) meeting on Thursday.
"As Zimbabwe prepares for elections, Zanu-PF and the security forces are again harassing human rights activists and MDC members," Daniel Bekele, the rights group's Africa director, said in a statement.
"SADC leaders should no longer just stand by and watch as the situation in the country deteriorates."
Bail ignored
The BBC's Brian Hungwe in the capital, Harare, says the day of vote for parliamentary speaker was dramatic, revealing the deep political divide in the country.
The speaker position is highly influential - especially in the power-sharing arrangement - exercising control over the legislative process, he says.
Hours before the vote, five MDC MPs said they had received bribes of $5,000 (£3,000) each from a senior Zanu-PF official.
They handed over cash to an MDC official who displayed it at a press conference, saying they had been given the money to vote for Zanu-PF's candidate.
Meanwhile Elton Mangoma, the MDC energy minister in the coalition government, who was arrested this month on charges of corruption, was granted bail before the vote but state prosecutors refused to release him.
With one spoilt ballot paper and Mr Moyo's victory by 12 votes, it seems three Zanu-PF MPs voted for the MDC.
Our reporter says the outcome was difficult for Zanu-PF legislators to accept.
They looked forlorn throughout the announcement of the results, while the MDC loudly celebrated, he says.
The 2008 election of Mr Moyo was nullified by the Supreme Court three weeks ago, following a complaint by a Zanu-PF official, who said the vote had been "disorderly".
Both Mr Mugabe and MDC leader Mr Tsvangirai have said the unity government is no longer working and called for fresh elections.
The MDC had previously insisted that a new constitution must be in place before polls are held, to ensure they are free and fair.