Ivory Coast eyewitness: Heavy gunfire in Abidjan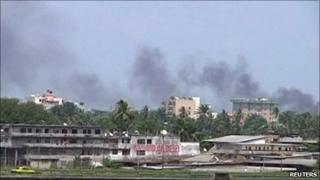 Forces loyal to one of Ivory Coast's rival presidents, Alassane Ouattara, have entered the main city of Abidjan where heavy gunfire can be heard.
The coastal city is the last stronghold of incumbent President Laurent Gbagbo, who is refusing to stand down despite the UN saying he lost November's poll.
Nfor Susungi, a Cameroonian who is a long-time resident of Abidjan, told the BBC's Focus on Africa programme about the latest clashes.
Testimony:
We are in Le Plateau - and have heard the sound of very heavy gunfire.
From our house we saw a number of pro-Ouattara people drive by in a pick-up truck - heavily armed - they came from what we call "the Zoo Area".
It drove past towards [the central district of] Cocody and I think that is where the heavy fighting which we heard was taking place at around 3pm local time.
We couldn't count the numbers [of the fighters] because when we sense the movement of these people, most people run back into their houses.
As we speak now the streets are mostly deserted and that's very unusual for Abidjan.
The gunfire from the direction of Cocody was kind of sporadic - it would die down and then pick up again. It lasted for about 20 minutes.
The heavy gunfire that I can hear now is from much more distant locations, perhaps in the area of Adjame [in the north of the city].
From phone calls that I have made I have been informed that the blockade around the Golf Hotel [Alassane Ouattara's headquarters] was lifted today.
It is not clear whether it was done by government forces that had been manning the checkpoints just moving away or whether they were forcibly removed.
Someone at the UN mission has also told me that pro-Gbagbo Young Patriots have been massing in front of the UN mission's office (Unoci), which is located at the Hotel Sebroko.
They're apparently demanding to see Charles Ble Goude, their leader, who is also a minister in Gbagbo's government. They suspect the UN would know where he is.
The UN is very much an organisation under siege - their peacekeepers are not very well liked in Abidjan, at least not as far as the Gbagbo government is concerned.
They have been denied the right to drive around in their vehicles so they keep a very low profile for their own security.
Most of the people who we know within Unoci spend their time within the offices and they sleep there, they don't go out very much.