Ivorian eyewitnesses: Looting and shooting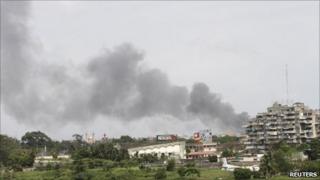 A heavy assault has been launched on several strategic areas of Ivory Coast's main city of Abidjan by forces loyal to the internationally recognised President Alassane Ouattara.
The coastal city is the last stronghold of incumbent President Laurent Gbagbo, who is refusing to stand down despite the UN saying he lost November's poll.
Battles are reported to be under way in the district of Cocody, where the presidential residence is located, around the presidential palace in Le Plateau, and around a barracks in Ajame to the north. Residents of the city told BBC about their experiences.
Student in Ajame, north of the city, on BBC Focus on Africa:
I'm not far from a barracks in Ajame. They have been shooting all night long.
Right now, they are shooting - I cannot tell exactly who is using the heavy guns, but based on the evidence I can see it is the people from the barracks.
They are shooting any which way - that is why everybody is obliged to stay indoors.
Such weapons were forbidden by the UN resolution adopted the other day.
Ajame - it is now a wasted, deserted land because the militias went into our compounds, they killed and looted the people's property.
A week ago the market was bombarded so now everybody has left this place.
All my foodstuffs that I bought are finished - my friends nearby, they're sharing with me.
I'm living alone. I've got a wife, but unfortunately she's siding with the interim president [Laurent Gbagbo], she was about to denounce me because she know quite well that I'm a president elect [Alassane Ouattara] supporter.
She even threatened to bring the president militias here to come and attack me.
As a Christian I'm praying to God to protect me - I have no weapons; I have nothing. I am from the north - but I can't even go because the way is blocked by the militias and mercenaries.
When I go to the [university] campus, I just submit my works for my pre-doctorate degree to my supervisor and come back home - most of the students are turned into student militias paid by the government.
The commander of the presidential guard unit, Dogbo Ble, has his barracks in Treichville [in central Abidjan where the main market is located]. He is the one who trains the militias and mercenaries. He's a dangerous man.
And I've just heard that he's brought some militias and mercenaries to the barracks near here.
Resident in Riviera 3, city centre, told BBC Africa Have Your Say:
I can't go out because there's heavy shooting across the streets. We're near the Akouedo military camp.
We can hear the heavy shooting coming from all over the place - explosions - it's heavier than yesterday.
It's frightening. They're not aiming at civilians but still it's kind of scary.
There's looting across the neighbourhood of Angre - people are driving trucks and visiting houses taking all the things and sometimes beating people.
The UN in Abidjan gave a number for people to call if being attacked but when people call it doesn't answer or they say they'll do what they can but they can't move right now.
So some people are desperate.
A friend of mine was attacked yesterday. She was at home and some young people they beat her and asked for the keys of the car, they took her cellphone and they took her money.
This morning she told me she found three bullets in her house, she thinks they were shot into the house during the night.
We have enough food and water - we had a chance to make provisions. Bread is scare but we managed to buy bread enough for four or five days - we're keeping it in the fridge.
Some shops are open even if it's very dangerous - today in Riviera some people found some bread early in the morning, and bought what they could depending on their money.
My little brother is living with me, but he is used to it because he was seven during the first coup in 1999 - though right now it's more dangerous and heavier.
OK, I'm going now because I think we've been shot on the wall [of our building].