Swaziland serial killer David Simelane faces hanging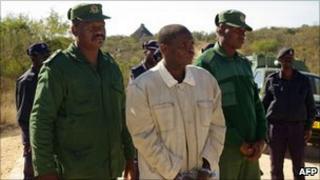 A serial killer responsible for at least 28 deaths in the southern African state of Swaziland has been sentenced to death by hanging.
A judge handed down the sentence nine days after David Simelane was convicted.
His lawyer said he would appeal against both the verdict and the sentence.
The killings are thought to have begun in the late 1990s and lasted until 2001 when police arrested Simelane after a tip-off.
He led the police to shallow graves where 45 bodies were found altogether, including several pregnant women.
The serial killer was charged with 34 murders and convicted of 28.
No executions have been carried out in Swaziland since 1983.