Rwanda genocide: The Gisimba orphanage that saved 400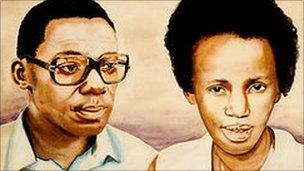 Miles from the Rwandan capital Kigali's centre, tucked between bustling Senegalese and Ghanaian eateries, street butchers, pavement markets and the odd informal cinema, the Gisimba orphanage is not exactly easy to find.
A modest building that now houses around 150 children, it played a key role in protecting some of those those caught up in Rwanda's 1994 genocide, in which more than 800,000 people were killed in 100 days.
The orphanage was set up during the 1980s by Peter and Dancilla Gisimba, who opened the doors of their home to house a dozen unwanted children from the local community.
At a time when ethnic tension was dividing communities in Rwanda, the family, who were themselves of mixed Hutu-Tutsi ethnicity, took children from all backgrounds.
"We had Tutsi children, Hutu children, all religions. My parents never discussed ethnicity," says Jean-Francois Gisimba, one of Peter and Dancilla's sons.
"We were raised to not identify ourselves that way," he tells the BBC World Service.
As word of the family's goodwill spread, more children arrived at the home, until an expansion became necessary and the family moved the children to a new compound.
By 1994 there were around 60 children at the orphanage, which was being run by Damas, Peter and Dancilla's eldest son.
"I remember April 6," says Jean-Francois Gisimba.
"I was 24 years old and working as a journalist for Radio Rwanda. I had just completed a report and was watching the football, when suddenly a colleague ran in and told me that the president's plane had crashed," he says.
"She was panicking and we knew immediately that this event had implications."
The plane carrying Juvenal Habyarimana, the president of Hutu descent, had been shot down near Kigali International Airport.
Immediately Hutu-led media began reporting that the aircraft had been targeted by the Rwandan Patriotic Front, a Tutsi rebel group led by Paul Kagame, now president of Rwanda.
In a matter of hours, Kigali was gridlocked by roadblocks and co-ordinated attacks against the Tutsi minority had begun.
"I left to head back home, back to the orphanage," says Mr Gisimba.
"On the way home I heard explosions. The whole town was burning."
When he arrived, Jean-Francois Gisimba was shocked by what he saw.
"There were around a thousand people there. Maybe more. I couldn't believe it," he says.
"They didn't come because they thought we could save them. They came because they didn't want to die alone."
Hiding people in the roof and basement of the orphanage compound, Jean-Francois and his older brother Damas began negotiating their survival with the Interahamwe, the Hutu youth militia.
"Damas would go out and talk to the militia, bribe them to stay away, and I would stay in and distribute water to the people we had there. There were hundreds of them.
"We had a Red Cross delivery of food that we shared out."
The reputation of the rescuer brothers began to spread and the amnesty that the militia had granted them, mainly because of the Hutu side of their heritage, was lifted suddenly.
The orphanage was now a target.
Over the following days, the Interahamwe started to kill people hiding there.
The militias did not discriminate, anyone who was Tutsi or a Tutsi sympathiser was deemed a legitimate target.
Babies and children were not spared.
"It was a certainty that we were all going to die. It was only a matter of time," says Mr Gisimba.
"Then a miracle happened."
American Carl Wilkens was then working as a missionary in Kigali.
While his embassy evacuated his fellow citizens from Kigali, he chose to stay against orders.
He was the only American to do so. He had heard of the orphanage.
"I still do not, to this day, know what force was moving him. Why he stayed when the other westerners left," says Mr Gisimba.
"Carl arrived, at that point, to the orphanage, and I asked him to stay.
"I wanted him to be a witness to our death. I told him that it was only a matter of time before we die. Carl said: 'No,' he would get us help," he recalls.
In an interview with the US broadcaster PBS, Carl Wilkens recalls what he found on that day.
"The Gisimba orphanage was a really desperate case, because they were in the heart of the nastiest part of the city.
"The most belligerent killers were there in that part of the Nyamirambo district, and the UN couldn't get there. It was just a terrible section of the city.
"They were starving. They had no water, kids were being killed, and were dying from dysentery."
But the presence of a muzungu (white person) was enough to stop the militia attacking the orphanage.
When the Interahamwe came round with machetes, ready to kill everyone there, the sight of Mr Wilkens stopped them in their tracks.
"Carl Wilkens used his walkie-talkie to call the UN and the interim government, and just because the American was there, they decided to leave, not to kill us at that moment," says Jean-Francois Gisimba.
Mr Wilkens' intervention eventually led to members of the regular army taking the people to safety in a Catholic church in the centre of Kigali.
As a result, more than 400 lives were saved.
Jean-Francois Gisimba now lives in Germany with his wife and children.
His brother Damas is still involved in running the orphanage, which relies on funds and support from well-wishers, private donors, organisations and volunteers.
"The orphanage has played a vital role in taking on a humanitarian role in Rwanda - both during the genocide and before in its over 25-year legacy," says Canadian Kim Clark, a volunteer at the orphanage.
"It is a symbol of survival and signifies the resilience of the Rwandan people. The children are happy, and the family, staff and community members involved are devoted to their care."
Yet, she says, the orphanage still struggles to find funding for overhead costs, building repairs and even food and clothing for the children.
"It deserves recognition and support to carry on doing its remarkably loving and inspirational work."
Related Internet Links
The BBC is not responsible for the content of external sites.