Libya: Rebel leader accuses Nato of failing civilians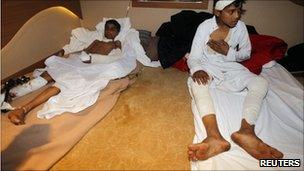 The Libyan rebel commander, Gen Abdul Fattah Younis, has accused Nato of standing idly by while pro-Gaddafi forces kill people in Misrata.
If Nato waited another week to intervene, the besieged city's people faced extermination, he told reporters in the de facto rebel capital Benghazi.
A Nato-led coalition mandated by the UN to protect civilians is enforcing a no-fly zone and attacking ground targets.
It accuses Gaddafi forces of sheltering weapons in civilian areas.
A tanker reportedly arrived at the eastern port of Tobruk on Tuesday to pick up the first consignment of oil to be exported from the rebel-held region.
The Greek-owned ship is capable of carrying more than $100m worth of oil.
Since the revolt against Colonel Muammar Gaddafi's rule began nearly two months ago, exports of Libya's main commodity have collapsed, driving up the price of oil to a two-and-a-half year high.
In another development, the Gaddafi government made senior diplomat Abdelati Obeidi its new foreign minister, replacing Moussa Koussa, who sought refuge on the UK last week.
Gen Younis accused Nato of "not doing anything" despite its UN mandate and complained of what he called an overly bureaucratic process that resulted in Nato taking hours to respond to events on the ground.
The general, who was Col Gaddafi's interior minister before he defected to the rebels in February, said Nato could have already lifted the siege of Misrata, the only sizeable town in western Libya still under rebel control.
Nato was concerned about killing civilians, he said, but there were "no civilians in the area where Gaddafi forces are".
"If Nato should wait another week, there will be no more Misrata," he added. "You will not find anyone."
Nato says international air strikes have reduced Col Gaddafi's military capabilities by nearly a third but his forces have deliberately moved weaponry into civilian areas to hamper air strikes.
"When human beings are used as shields we don't engage," Brig Gen Mark van Uhm, a senior Nato staff officer, said in Brussels.
Pro-Gaddafi forces, he added, were resorting more and more to using trucks and light vehicles, "keeping more heavy equipment like armoured vehicles [hidden]".
"So, without even targeting them, we already have an effect in that he can't use them," he said.
The Pentagon has confirmed it has ended its strike mission after flying a total of 1,600 sorties, 600 of them strike sorties, but it continues to provide support to Nato such as air-to-air refuelling and intelligence-gathering.
Nato says the fighting in and around Misrata is its number one focus. It is increasing its reconnaissance missions to track what is going on on the ground.
The arrival of the oil tanker was announced by the shipping paper Lloyds List but not immediately confirmed by the opposition leadership.
Its arrival enables the Libyan opposition to begin earning revenue for the first time from the oil fields under its control, the BBC's Jon Leyne reports from Benghazi.
Qatar is acting as a middleman, effectively shielding whoever buys the oil from any legal arguments.
Eventually the shipment is likely to end up in one of European refineries best suited to handle Libyan crude.
It will also free up storage capacity in Tobruk, important because oil needs to continue moving through the Libyan pipeline network to stop it becoming clogged up with wax.
However, it may not all be plain sailing, our correspondent adds.
There are reports of a Libyan government military attack on one of the oil fields that supplies Tobruk. One or more of the storage tanks was set on fire at the field, in the far south-east of the country.