Jos violence: 'Everyone lives in fear of his neighbour'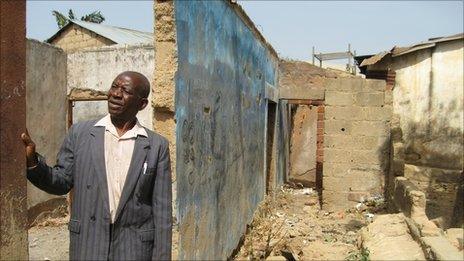 Reverend Noah Maikano shows me what remains of the house he spent most of his adult life building in the central Nigerian Plateau state. It has been burnt for a third time.
Plateau, at the crossroads between Nigeria's predominantly Muslim north and the largely Christian south, was once celebrated as "The Home of Peace and Tourism".
Now it is home to neither. The state capital, Jos, is stuck in a cycle of sectarian violence stretching back more than a decade.
He described then how his house was first attacked in 2001, and again in late 2008. But he was in the process of repairing it and moving his family back in.
"Soon after we finished the repairs, the same problem came up again. The Muslims said their people were killed so they were going to retaliate. We narrowly escaped."
On my last visit, I also met students and staff at Al-Bayan Islamic secondary school.
They were clearing up after a mob of Christians had burnt most of the buildings and brutally murdered five of the students, along with another child who was on the campus at the time.
In the run-up to Nigeria's presidential elections, I went back to Jos to find out whether things have changed for people like this.
Reverend Maikano takes me back along the same road we walked together two years ago. Fresh destruction is soon clear. Slogans on blackened buildings tell Christians to leave.
But nothing prepares me for the view as we turn the corner.
The reverend's house has not just been burnt for a third time. Many of the walls have been demolished as well.
Reverend Maikano and his family have now moved to a village outside Jos.
"There is nothing we can hope for again. They have destroyed what I took 20 years to build," he says.
Last time I met him, he was optimistic he and his Muslim neighbours would go back to living in peace, in a street that had been mixed.
This time as he stands in ruins of the house, he seems less sure.
"For now can we can see Muslims and Christians living apart. Everyone is living in fear of his neighbour in Jos."
Over the past two years, more than 1,000 people, both Muslims and Christians, have been killed in fresh violence in Jos and the surrounding villages.
Massacres have been committed on both sides.
The most recent round of large-scale violence was sparked by a series of bomb attacks on Christmas Eve. That led to killings of several hundred people.
At Al-Bayan Islamic school things have improved since my last visit, at least on the surface. The mosque and the library have been rebuilt. The classrooms are full again.
But the fear has not gone away.
"The culprits who burnt the school were arrested, and taken to police headquarters," says teacher Jibril Yakubu Ibrahim.
"They only spent some days in detention, and then were released, and no-one came to say a word to us."
"Even today they are neighbours of the school, and psychologically it's affecting our students, looking at these people around the area."
The police confirmed that the suspects initially charged were released on bail. Two years on, the case is yet to come to court.
It is estimated that 700 people were killed in the sectarian violence in late 2008, the period when Al-Bayan school and Reverend Maikano's house were attacked.
There is no record of a single successful prosecution related to those crimes.
This impunity for acts of violence helps explains why the cycle of revenge and counter-revenge has continued.
It also makes building bridges between the divided communities in Jos more difficult.
"Right now there is no reconciliation. Look at my house, I know it's a Muslim that has pulled it down, sent me to the village. It's not easy to forget, it will take time," says Reverend Maikano.
Last time I was in Jos, I found a number of mixed communities still existing. Now there is a mosaic of new front lines between Muslims and Christians.
But the tragedy of Jos is that the root of the conflict is not about religion.
It is a battle for power and resources between members of different ethnic groups.
Most of the violence has been between the predominantly Muslim Hausa-Fulani community and the mainly Christian ethnic groups that control the state government.
Most people in Jos will tell you that politicians have actively inflamed the tensions between these groups.
But there is one island of hope in the city.
In the Dadin Kowa neighbourhood of Jos, Pastor Declan Onyebuchi and Imam Abdul Aziz Suleiman show me streets where Muslims and Christians still live side by side.
The area has largely escaped the violence that has affected many other parts of the city.
"When this crisis started, we had an agreement between the Christians and the Muslims, then we also had an understanding of protecting our community from outside intruders," explains Imam Abdul Aziz Suleiman.
"We are not going to allow anyone to come in here and disturb our peaceful co-existence. We fortified ourselves."
The religious leaders believe their community has avoided violence because they have refused to allow politicians to whip up tensions there.
"The instigators of this crisis are living in the better-off areas, with well-fenced houses, and security agents at their disposal," said Pastor Onyebuchi.
"They incite the masses who are vulnerable because of poverty, and their own children not even living in the vicinity."
The pastor and imam show me where new residents are moving into the neighbourhood from other parts of Jos, both Christians and Muslims, seeking safety.
It is the opposite of what is happening in other areas. As formerly mixed communities become more segregated, interaction and trust is steadily reducing.
Many residents live in fear of the next outbreak of violence.
But as Reverend Maikano finishes showing me around the ruins of his house, he tells me he hasn't given up. If he can find the money, he will rebuild once more.
"We hope that if Christians and Muslims can forgive each other, we can live together again."
Rob Walker's Assignment documentary is broadcast on BBC World Service on Thursday 7 April.