Ivory Coast: Phone lifeline for injured Abidjan residents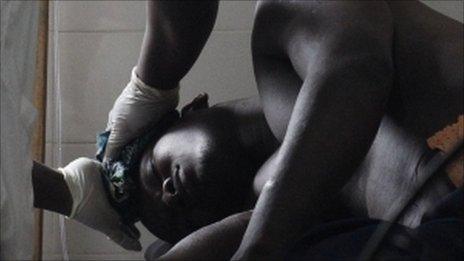 A vital lifeline to help residents of Abidjan survive the battles taking place in the Ivorian city is being run from neighbouring Ghana using mobile phones.
While forces opposed to Ivorian leader Laurent Gbagbo surround the presidential residence in Abidjan, local citizens are facing their own battles for medical aid and communications.
ATM machines are empty in Abidjan and residents are afraid to go out because of concerns about militia attacks.
Shops are closed and supplies are running out. Those who are injured or have ongoing health issues are facing a grave situation.
Diady Mohamed, an Ivorian now living in Ghana's capital, Accra, has been working on a solution.
"Because there is no money in the ATM machines, people cannot buy credit for their mobile phones," Mr Mohamed told the BBC.
"People cannot make calls for medical emergencies so we set up a network to get around this."
Called CivSocial, it is made up of a group of volunteers who can be contacted by Abidjan residents who need help.
They can "flash" CivSocial's number in Accra, make a very brief call to it and then hang up or text - so that volunteers can call them back, saving money for calls.
Those in need then describe their requirements and location so that CivSocial can pass this on to the Red Cross or other local medics.
"There are no ambulances available to help people in emergencies. We have a network of doctors and medical staff in Abidjan," says Mr Mohamed
"They have a one-kilometre range in which they can travel to help people.
"It is a restricted range because cars are being shot at. They are putting themselves in danger to help others where they can."
The decentralised network has spread beyond the phone number in Accra and across the internet, using social media to spread the message further.
Volunteers in the UK, Ghana, the US and Paris are helping communications by sending messages on Twitter and Facebook to help match medics with patients.
CivSocial was initially organised to provide some transparency for the Ivory Coast elections in 2010.
But it was not well received by some and Mr Mohamed's home was raided and he had to leave Abidjan for Ghana for his own safety.
His project is being backed by a non-governmental organisation called Akendewa - run by Jean-Patrick Ehouman, an Ivorian now living in Paris.
Its name means "spider", reflecting the web-like nature of the organisation.
Akendewa trains people across Africa to use technology to help themselves.
Volunteers also install modems and connections in schools and public places for free so that local communities can share the connection.
Mr Ehouman also promotes safe practice online: "We never ask people to tweet or post on Facebook with their address details.
"We do not know who is attacking who at the moment, so we take their numbers and call them back for details."
The organisation works with francophone African countries and relies upon the good will of its volunteers and members.
As a network it also provides a powerful tool for verifying situations such as events in Abidjan.
"I have a large selection of members I can contact. People send me updates all the time and I can check with people I know on the ground to find out what is really happening," Mr Ehouman says.
Around one million people in Ivory Coast were able to access the internet in 2010.
Mr Ehouman notes that this figure grew during the election period in December.
Many people are enabling their phones to access the internet too, creating a more mobile picture of events and needs for services like CivSocial.
The aim of Akendewa is to grow so that members can train each other and further their knowledge.
"We try to encourage people to find new ways in which technology can help us all and we support them in those efforts," Mr Ehouman says.
Related Internet Links
The BBC is not responsible for the content of external sites.