Ivorian crisis: Refugee stories from Liberia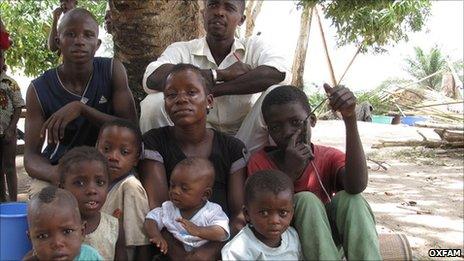 As fighting continues in Ivory Coast thousands of refugees are streaming into Liberia each day.
Forces loyal to the internationally recognised winner of November's presidential election, Alassane Ouattara, went on the offensive last week from their northern bases against the forces of incumbent President Laurent Gbagbo, who refused to give up power.
The pro-Ouattara fighters have begun a final assault of the Mr Gbagbo's residence in the main city, Abidjan.
Refugees in south-eastern Liberia told the charity Oxfam about their experiences.
Gustave Glawoulou, 57, construction worker, interviewed in Janzon:
We left [Blolequin in Moyen-Cavelly region] because of the war.
The fighting happened at three in the morning and we just ran when we heard the gunfire.
You could hear loud booming noises that sounded like bombs... boom.
We just ran for our lives when we heard that. I thought we would die.
We had great difficulty getting here.
We [and my five children aged between eight and 30] had to walk for four days.
There was no proper road just bush and I often had to carry my youngest son on my back.
We're staying now at Ponah Village.
There are 35 of us living in one house.
I'm appealing to the world so we can end this war. We are suffering; everything is very hard.
Because we are on our own without parents, many people here [in Bawaydee, where we are staying with a family] feel sorry for us and give us some food.
We [me and my sister] are afraid because we're on our own.
We don't know if the others [in Doke village in Ivory Coast] are alive.
We have to be strong now because our parents are not here.
I'm responsible for my sister; I have to make sure she is safe.
We fled to the bush when war broke out.
I went back to Seibly village [on 15 March] with my sister to go home to get food.
When I was upstairs she called and said gunmen were coming.
She rushed outside and shooting began. I escaped in another direction.
After a while I called out to my sister and beckoned to her to where I was.
The bullet passed through my hand and hit my sister.
She fell in front of me. There was a lot of gunfire and I ran.
Blolequin fell to the rebels [pro-Ouattara forces] a few weeks ago.
I was with the young children [and got separated from my husband and two grown up daughters].
So it was hard for us, we [and my four grandchildren] didn't come here directly; we had to move slowly.
The fighting started at 3am and the sound of the guns made us run away.
We had to stop a lot of times… The children were weak and needed feeding.
I had to carry one of the children on my back; another one on my shoulders.
My problem now, [I got here this week], is caring for these young children. They have no food, no clothes.
Things were very difficult in the bush. We could not eat.
I'm really worried about my daughter [she is 10 months old and weighs only 5kg - or 11lbs].
The only thing I pray for right now is the good health of my daughter.
If she improves than my worries will be eased.
But I am worried about my boyfriend who is in Abidjan.
I heard the fighting there is intense.
Related Internet Links
The BBC is not responsible for the content of external sites.