Libya: US rebuffs letter from Gaddafi, says he must go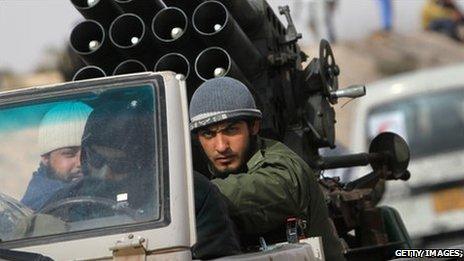 The US has rebuffed a personal appeal from Libyan leader Muammar Gaddafi to US President Barack Obama, repeating that he must resign and go into exile.
"Mr Gaddafi knows what he must do," US Secretary of State Hillary Clinton said, commenting on the three-page letter received by the president.
Colonel Gaddafi urged Mr Obama in his letter to end an "unjust war".
An unconfirmed report from Libya says a coalition air strike has damaged a disputed oil pipeline.
Khaled Kaim, a deputy foreign minister in Col Gaddafi's government in Tripoli, told reporters that three guards had been killed and other staff injured during an air strike by British jets on the Sarir oilfield in the Sirte basin.
However, the oilfield has been under rebel control, and the rebels reported attacks this week by Libyan government forces in the area, which forced a halt to oil production.
There was no immediate official comment from the UK's Ministry of Defence on the Libyan government report.
But on Wednesday afternoon, it reported that British jets had hit targets around Sirte and Misrata, attacking armoured fighting vehicles and tanks.
A White House spokesman responded to Col Gaddafi's letter, a copy of which was obtained by the Associated Press news agency, by saying actions, not words, were needed from the Libyan leader.
American warplanes are no longer involved in the air strikes on Libya - a fact hailed by Col Gaddafi in his letter.
Referring to Barack Obama as "our son", the Libyan leader urged the US leader to end an "unjust war against a small people of a developing country", and dismissed the rebels as "al-Qaeda" militants.
His nation, he said, had been been hurt "morally" more than "physically".
Mrs Clinton said in Washington: "I don't think there is any mystery about what is expected from Mr Gaddafi at this time.
"There needs to be a cease-fire, his forces need to withdraw from the cities that they have forcibly taken at great violence and human cost...
"There needs to be a decision made about his departure from power and... his departure from Libya."
In another development, a former US congressman has arrived in Tripoli at the invitation of the Libyan government.
Curt Weldon says he will urge Mr Gaddafi to "step aside", and is suggesting that his forces pull back from western cities under siege while rebel fighters do not try to advance any further from the east.
The White House was informed about the visit in advance but a spokesman stressed that Mr Weldon was not an official envoy.
Nato has promised to do everything it can to protect civilians in the west Libyan city of Misrata which is besieged by Col Gaddafi's forces.
Rebel leaders have predicted a massacre there within a week unless Nato takes more decisive action.
The BBC's Wyre Davies reports from rebel-held eastern Libya that rebel forces remain enthusiastic but ill-disciplined, despite attempts by the few former regular soldiers among their ranks to try to coordinate their operations.
It is a safe bet that after firing off their rockets and mortars in the general direction of the enemy, the same rebels will come charging back, unable or unwilling to dig in and take on Col Gaddafi's better-trained troops, our correspondent says.
Meanwhile, government forces have adapted their efforts to frustrate Nato air strikes, no longer using tanks or other military vehicles that could easily be identified and attacked.
They are using the same pick-up trucks and civilian guise as the rebel fighters, our correspondent says.
Col Gaddafi's opponents are still not in immediate danger of losing strongholds like Benghazi but nor are they in any shape to make significant advances on the ground without more Nato air strikes, he adds.