Key Kenya figures appear at ICC over post-poll violence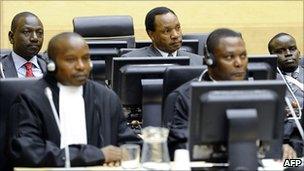 Three prominent Kenyans accused over violence following elections in 2007 have appeared at the International Criminal Court in The Hague.
Two ex-ministers and a radio executive, who at the time supported current Prime Minister Raila Odinga, heard charges of crimes against humanity against them.
Three others who backed President Mwai Kibaki - including the deputy prime minister - are due to appear on Friday.
More than 1,000 people were killed in the violence in Kenya in 2007 and 2008.
Some 500,000 people were driven from their homes, 100,000 of whom still remain in camps.
The violence broke out after supporters of President Mwai Kibaki were accused of trying to rig the presidential election in December 2007.
It ended when Mr Kibaki and his rival Raila Odinga agreed to share power, with Mr Odinga becoming prime minister.
On Thursday, ICC judges said a hearing would be held in early September to decide whether the men will stand trial. If convicted, they could face life imprisonment.
Former Higher Education Minister William Ruto, former Minister for Industrialisation Henry Kosgey and radio executive Joshua Arap Sang appeared in court for the preliminary hearing.
They have not been formally charged but are accused of crimes including murder, deportation, persecutions and torture.
Mr Ruto told the court the allegations "made here sound to me like they can only be possible in a movie". He added: "For an innocent man like me to be dragged here really is a matter that puzzles me."
On Friday, Uhuru Kenyatta - deputy PM and son of founding President Jomo Kenyatta - is set to appear at the ICC along with secretary to the cabinet Francis Kirimi Muthaura and former police chief Mohammed Hussein Ali to hear charges of murder, deportation, persecutions and rape.
Kenya had asked the ICC for a deferral, and says it is now able to investigate and prosecute these cases itself.
Some 40 Kenyan MPs gathered outside the court in The Hague to provide moral support for the accused.
"We feel this is not the right way to go. We can manage our own affairs," said one lawmaker, Mohamud Ali. "Yes, we had our problems. We were down, but now we are up."
Both Uhuru Kenyatta and William Ruto are seen as likely candidates to stand in the 2012 presidential elections, but any criminal charges could effectively end their political ambitions.
Mr Ali suggested that the court cases could be seen "as a way of trying to influence the outcome of 2012".
The ICC alleges that a criminal plan was put in place in the Rift Valley for supporters of President Kibaki to be attacked after the election.
ICC prosecutor Luis Moreno Ocampo has said that in retaliation, police were given the green light to use excessive force and a vigilante group was organised to attack civilians.
The violence brought the country to the brink of civil war, with long-standing ethnic and economic rivalries ignited by political divisions.
One of the worst incidents saw a church where about 100 people had sought sanctuary set on fire, killing dozens inside.
The violence ended after former UN Secretary General Kofi Annan brokered a peace deal between the two presidential rivals. As part of the deal, it was agreed that perpetrators would face justice in Kenya or at the ICC in The Hague.
The organisation Human Rights Watch says this appearance of the six Kenyans in The Hague is an important test of their co-operation with the ICC.
Related Internet Links
The BBC is not responsible for the content of external sites.