Libya former energy minister Shatwan flees to Europe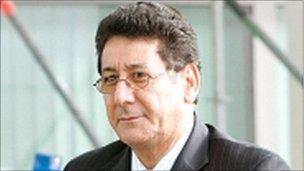 A former top minister in the Libyan government, Omar Fathi Bin Shatwan, has fled to Europe.
Mr Shatwan, who had been energy minister till 2006, says several members of Libyan leader Col Muammar Gaddafi's inner circle want to defect, but many are too scared to do so.
The US has rebuffed a personal appeal from Mr Gaddafi to US President Obama.
And a former US congressman has arrived in Tripoli at the invitation of the Libyan government.
Mr Shatwan, who also served as industry minister, had fled by fishing boat to Malta on Friday from the besieged city of Misrata, he told the Associated Press news agency.
He said he still had contact with some government figures and many feared for their safety. In some cases, their families were under siege, he added.
"Those whose families are outside Libya will flee if they get a chance," he said. "But many can't leave, and all the families of ministers are under siege."
He said he had spent 40 days at his home in Misrata before escaping from Libya, and witnessed the destruction of the city by government forces.
"There has been a big bombardment and there is total destruction. After this, they occupied some streets with tanks, and put snipers in the buildings."
He said government forces - which he said were mainly foreign mercenaries led by a small number of Libyans - had fired on civilians indiscriminately inside Misrata.
Mr Shatwan held various government posts between 1987 and 2006, including that of energy minister between 2004 and 2006. He left the government in 2007 and returned to his career as an academic.
"At the beginning Gaddafi's regime was good - the first 10 years saw vast improvements, the middle 20 years less so, and the last 10 years have seen terrible decline," he said.
Mr Shatwan's escape follows the defection of Foreign Minister Moussa Koussa to the UK last week.
Meanwhile, rebel commanders in eastern Libya have told the BBC Nato planes have mistakenly hit rebel positions. One commander says he saw four missiles strike rebel front-line positions.
There have also been reports that planes have been seen over the capital, Tripoli, and explosions heard.
The Libyan government has said British fighter jets have carried out a strike on a major oil field, in which a pipeline was damaged.
Libyan Deputy Foreign Minister Khaled Kaim said three security guards had been killed in the attack on the Sarir oil field, in eastern Libya.
In his letter to US President Barack Obama, Col Gaddafi urged him to end an "unjust war".
On his visit to Libya, former US congressman Curt Weldon says he will urge Mr Gaddafi to "step aside", and is suggesting that his forces pull back from western cities under siege while rebel fighters do not try to advance any further from the east.
The White House was informed about the visit in advance, but a spokesman stressed Mr Weldon was not an official envoy.
A contact group set up to guide the international intervention in Libya is to hold its first meeting in Qatar next week, officials have said.
The group includes European powers, the US, allies from the Middle East and a number of international organisations.
The chairman of the country's National Oil Corporation, Shukri Ghanem, has said the country's oil output has fallen dramatically, from a figure of about 1.6 million barrels per day.
"There is some production in Libya, around 250,000 to 300,000 barrels per day, which is being used domestically," he told Reuters news agency.
He also called the reported sale of Libyan oil by rebels fighting government forces "very sad" and said it would only contribute to divisive tensions in the country.
On Wednesday, a tanker left Tobruk carrying the first consignment of oil since the rebel government won recognition from some countries.